Shipping Containers as Glamping Pods
Tuesday 16 August 2022 Filed in: General
Glamping has literally put the glamour into camping, bringing a touch of luxury to outdoor living with bell tents through to all-year-round structures such as cabins, pods and shepherds' huts. More innovative approaches to glamping has seen the shipping container appearing on the scene to rival other types of glamping pods. Shipping containers have been used for conversions to provide accommodation, either temporary or permanent, for many years, so it's no surprise they have now emerged on the glamping scene. They are robust, secure, low-cost, flexible, portable and incredibly versatile! The wide range of modifications that can be carried out on containers offers anything from a basic glamping pod that can be fitted out once on site, or a luxury pod that includes kitchen and bathroom facilities.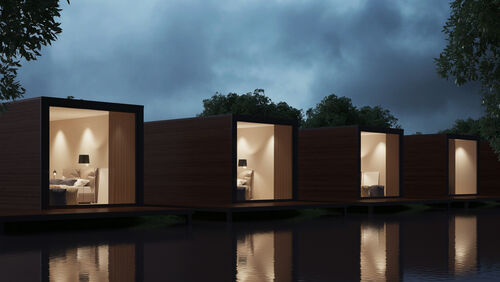 Conversion options for glamping pods
Our modification packages include:
For a luxury glamping pods choose:
Create an unforgettable glamping experience
Once the container glamping pods have been delivered on site, our clients add the finishing touches with furnishings which are both comfortable and create an aesthetic that is visually stunning. This can include decking around the outside of the container for enjoying perfect summer evenings.