St Sebastian's Playing Fields - Case Study
Wednesday 15 March 2023 Filed in: General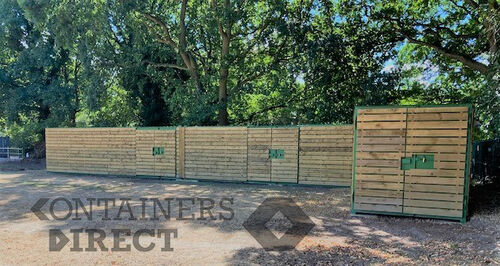 We modified three
30ft used shipping containers
for St Sebastian's Trust, an organisation that manages playing fields and sports clubs for the local community of Wokingham. The containers are being used to meet the needs of the clubs which include cricket, football and tennis, with the emphasis on robust, dry, secure storage. Finished with wood cladding they are both a practical and attractive addition to the green space of St Sebastian's.
Testimonial
"I have just come from our site where all three of our new storage buildings are now installed. They look brilliant and have already generated approving feedback from our members and from other visitors. So I wanted to thank you for all your hard work on our behalf and ask you to please pass on our gratitude to the production team who have done such a good job with the build. The look and quality are both excellent and we are excited to begin using all three buildings for their intended purpose.

We were especially pleased with the D Cain & Sons team who delivered and installed them this morning. All three of the guys were really professional throughout and did a perfect job for us, thank you for selecting them for us for this project we couldn't be more delighted with the way everything about the delivery was handled. They arrived very promptly and were very thoughtful about our needs and our site requirements throughout. They worked diligently and calmly all morning, making sure we were absolutely satisfied. They were three really great guys and we enjoyed meeting them very much. Again please pass on our thanks and let them know we are happy to provide a recommendation if they would find that helpful.

You have my personal thanks and thanks from the whole project team at our end.

Warmest personal regards and thanks."

Grahame from St Sebastian's Playing Field Trust
Secure, dry storage
Shipping containers are a low cost, hard-wearing, weatherproof alternative to traditional buildings such as sheds and garages for outdoor storage. Their steel construction makes them incredibly robust, and with the very hard to vandalise or break into! With the added advantage of portability, if the Trust decides they would be more useful sited elsewhere on their grounds, this is quite simple to do.
With the addition of
ply lining and insulation
inside shipping containers they can be kept condensation free, so there's no need to worry about moisture damaging the contents or picking up the unpleasant aroma of anything stored in cold, damp conditions for too long.
Wood cladding
is the perfect addition for containers sited in green spaces to blend in with the natural surroundings, pass planning permission requirements and basically just look great! Who would have guessed there are three metal boxes behind the wood!
View our full case study
here
.
Request a Quick Quote!
Contact our sales team for your no obligation quote, including delivery!