The Bottom Line - What To Put Under Your Shipping Container
Tuesday 19 May 2020 Filed in: General
Where you choose to place your shipping container is very important to prevent future problems with using the doors. In particular original shipping container doors (ISO doors) can be a bit of a heave-ho to open and close, and if the container isn't sited on hard-standing, level ground this can make things worse. The simple solution is to plan and prepare for delivery in advance.
What happens to containers on uneven ground
Known in the trade as "racking out", if just one corner of the
shipping container
isn't level the container will twist slightly which causes the doors to go out of alignment, making them difficult to use. This is made worse if the load inside the container is unevenly distributed. Soft ground, such as grass will cause the corners of the container to sink in, which also causes racking out.
Standing your container on a hard, level surface prevents these problems, but of course, we understand that this is not always an option. Many of our customers will want to place their shipping containers in fields and gardens, on grassy terrain. This is possible with a few options.
How to prevent a container from racking out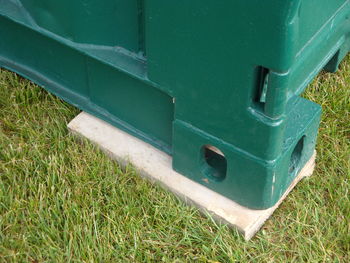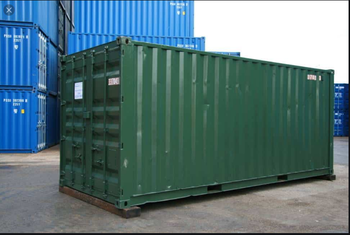 A level base can be created by laying a concrete foundation. However, a simpler option is to place concrete slabs at each corner. A third, and popular option, is to use railway sleepers, placing one under each end of the container. All these options help to evenly distribute the weight of the container on the ground and prevent it from racking out. Sleepers can be purchased from Containers Direct at just £180 plus VAT for a pair.
Helping you to get it right
To ensure things run smoothly and future problems are preventable, our delivery drivers will stay on site for up to an hour while you check the container is properly levelled (you can test this by checking the doors open and close smoothly), and they will make any adjustments necessary. It is always handy to have a few bits of timber at the ready in case any minor tweaks need to be made. For more information and advice on delivery see our
shipping container delivery
page.