Top Tips for a Successful Container Delivery
Friday 2 July 2021 Filed in: General
Delivering and siting a large object like a shipping container requires forethought and planning to ensure you don't make the costly mistake of making a purchase you can't use, or worse, one that gets damaged by incorrect placement. Fortunately Containers Direct have been delivering shipping containers for a very long time, using skilled and experienced hauliers, so we can tell you everything you need to know to prepare a smooth delivery day.
Back to the beginning
Ever wondered where your new
shipping container
has come from and the journey its made before it arrives at your site? If not then skip past this section and go straight to our tips for your delivery! Or read on if you're curious about the backstory of your new container.
It has almost definitely been manufactured and transported from China in the first instance.


It will have been loaded with goods for the sea-faring journey – it's not cost effective to transport empty containers!


It will have been stacked up on a cargo ship with vast numbers of other containers, up to eight high!


Upon arrival in the UK (and the goods unloaded) it will have been sold off into stock for shipping container brokers and retailers.


A "new" shipping container will have only made this one journey before you buy it.


A used shipping container will have made numerous cargo-carrying journeys for shipping lines before it's sold off into retail stock
Getting the container to you site
Once you've bought your container it now has to be delivered from the depot to your chosen spot. Shipping containers are transported on an artic lorry with a mounted crane to lift the container on and off. These vehicles are around 65ft long so it's essential you ensure your site can accommodate this. These three things will need to be taken into consideration when assessing this:
Hard standing only: The delivery vehicle is unable to leave hard standing – that means crossing playing fields or football pitches is out!


Overhead cables: The haulier will be unable to offload your container if there are any overhead cables in the way.


Delivery vehicle legs: Please be aware that our hiab vehicles all extend "legs" in order to stabilise the vehicle when operating the crane. These legs can extend up to 6ft on both sides of the vehicle, so please ensure your site can accommodate the extra width e.g. if your container can only be delivered from a main road, be aware that the extra width of the legs might mean you need to organise a road closure prior to delivery.
If site access is a concern, we may be able to facilitate the delivery of your shipping container on just a 39ft rigid lorry, or a wagon and drag (trailer). This may incur extra costs and is for a maximum container size of 30ft. Alternatively you may want to consider a flat pack container.
Preparing the ground for your container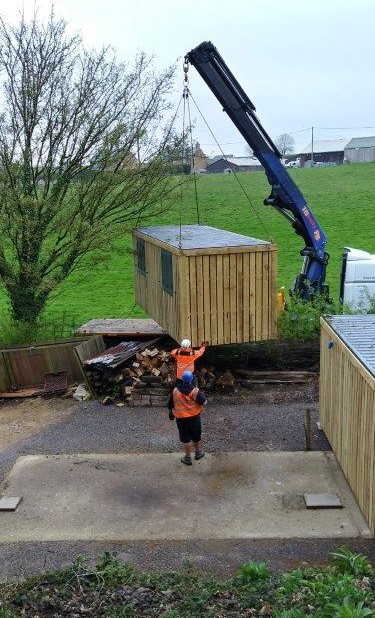 Before your shipping container arrives you'll need to make some preparations to the ground it's going to sit on. Depending on the type of container you've ordered the following tips are highly recommended to prevent damage to your container over time:
Standard shipping containers: You will need a solid hard standing level base supporting the four corners of the container to prevent 'racking out' which can leave it difficult to open and close the doors. A concrete slab or railway sleeper under each corner will support the container.



Modified shipping containers: If your container has any additional doors (e.g. personnel doors, S1 side doors, UPVC doors etc.), or any modifications including large side apertures (e.g. for windows or joining up work), please ensure that the bottom rail underneath the doors/apertures are fully supported to stop the container bowing when weight goes into the container.



New Build containers: New Build containers must be placed on a hard standing, level platform supporting the entire base of the unit - they require full support to prevent "racking out".
Post-delivery checks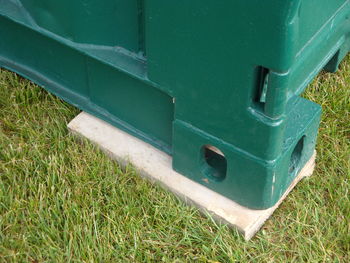 It's always good to check everything is running smoothly before the hauiler leaves. You'll know the container is levelled properly if you can open and close the all the doors smoothly without any issues. We allow for up to 30 minutes of your delivery slot to make sure the container is level and can relift the unit to make any fine adjustments. It's always handy to have a few pieces of timber or concrete ready just in case any extra support is required.
We're here to help!
If you're unsure about any of the
delivery
and
site preparation
points above our highly knowledgeable and dedicated deliver team are happy to answer any queries and give specific advice ahead of your purchase.