USING SHIPPING CONTAINERS AS ACCOMODATION DURING CONSTRUCTION WORKS
Thursday 5 September 2013 Filed in: General
If you are planning building works or an expansion, whether it's for your home, business or a large organisation such as a school or hospital, you'll be wanting 'business as usual' while the work is completed. So how do you minimise disruption and continue normal service while surrounded by the disruption brought by building works? Using shipping containers is the ideal solution, providing temporary, economical accommodation to continue operating from.
Containers Direct frequently work with clients from both the private and public sector to convert containers suitable for whatever temporary purpose is required while construction projects are implemented.
Why shipping containers are the solution
Flexible – can be adapted to a wide variety of uses, from living space to classrooms, reception areas. toilets and canteens
Low cost – shipping containers make the cheapest temporary structures available
Secure – made entirely from steel, shipping containers are theft and vandal proof
Fast turnover time for delivery and installation
And we'll even buy back afterwards! As shipping containers are fully reusable, we regularly re-purchase from our clients once their building works are completed
Examples of our temporary container accomodation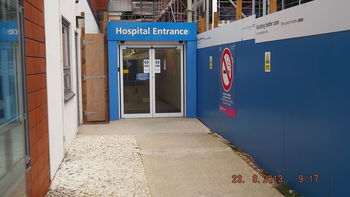 Our recent temporary accommodation provisions include two 40ft containers sent to Blackpool Hospital, to support their car park and building developments. We
lined
the containers and joined them together lengthways, to use as a temporary entrance building. Take a look at the pictures below to see the transformation!
Portable cabins
As well as converting shipping containers for use as temporary site accommodation, we can also provide purpose built
portable cabins
. These come in a range of sizes and fitted facilities, or you can request a customised conversion.