What Is The Process For A Container Conversion?
Friday 16 June 2023 Filed in: General
Ever wondered how a humble shipping container gets transformed into an office, shop, food stall, garage or workshop? Read on if you want to uncover some of our tricks of the trade.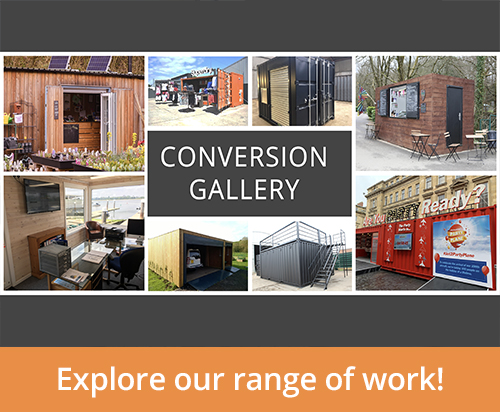 By the time you've start planning your container conversion you'll already know what you need it for. It could be for one of the above, in which case there are plenty of examples to guide you on our website case studies pages. Or you might have something in mind that's a bit different, either in design, or purpose. So the first step is to decide what modifications and features you need for your conversion, and will draw up a CAD for your approval.
Explore our range work to help get you started and give you an overview of the process for a container conversion. You'll find lots of examples of our standard container conversions, for example our
ModiBox® portable office
. the
GymBox home gym
, and the
MenuBox catering container
In addition we display many of our bespoke conversions with unique designs and features.
Find out more about our different conversions types and uses on our page
Shipping Container Conversions
What type of container do you require?
This is always the first step in planning. Opt for a used, new, or new build container as the base for your container conversion. What you choose depends upon the price range you're looking at, how much life you need to get out of your building, and whether or not you have any special requirements in terms of size. For most conversions a standard used or new shipping container is a good choice. They are great value for money and can be cut down to any length. So basically they are suitable for any size between 6ft and 40ft - and everything in between! All shipping containers are 8ft wide, and either 8ft 6in or 9ft 6in high, so if you need more width then ask for a new build container. Although the price tag is higher, as it's a bespoke build "from scratch", you can have up to 4ft extra width. Alternatively we can use standard 8ft wide container and that can adapted to be joined together on-site. Extra wide containers work well for office and garage conversions.


Conversion essentials - doors and windows
Once your shipping container has been selected, and cut down to the right size if necessary, completing the steel work is the next step in the container conversion process. If the container has been cut down it needs welding to make it complete, which involves creating a new back wall, door, or sometimes both. You will already have chosen the door type(s) for your container and the number and positioning of windows. For any additional doors, personnel doors, side doors, roller shutters or patio style doors, apertures are cut into the container and frames created using box section steel to then fit the doors and windows into. A choice of three styles of
serving hatches and shutters
can be fitted into catering conversions.
Other nice little additions include sloping roofs and living roofs, which give the conversion extra visual appeal, along with keeping water off the container roof and encouraging bio diversity. The green roof is popular with school's looking for a
portable classroom
, especially for outdoor learning.
Repainting
Once the steel work is finished the container is resprayed to your chosen colour. Think about where you're container will be sited and whether you want it to stand out an get notice, or blend in with the chosen surroundings. For example if it's a garden office our clients usually choose green. If it's a pop-up shop or pop-up food stall, clients often choice a repaint that will get them noticed and attract more business.
Cladding
Exterior wood cladding is a popular optional extra on many container conversions - giving the aesthetic of a wood cabin instead of a metal box, it can also help with any planning permission requirements you may need to satisfy. A repaint underneath the cladding is often chosen, as it helps extend the life of the container, and with some types of cladding the container underneath can still be spotted through the small gaps between the wood.
Extras on the inside
Lining and insulation
There's a whole host of optional extras to select from for your container conversion. We have recommended features for each of popular conversion types. For instance for container office lining and insulation is essential for comfort, temperature control, noise reduction, and a professional appearance. Melamine lining is usually the best choice for an office, due to appearance and cleanliness, but ply lining will do the job just as well. Catering conversions require melamine lining for hygiene as it can be easily wiped clean. Garage containers suit ply lining best, and keep condensation our of your container, providing a dry environment for you car and general purpose garage storage.


Electrics
A power source is often required in container conversions, therefore we provide electrical packages to suit the size and use of the container. These run through a consumer unit we fit inside the container and a hook-up lead outside. All wiring is surface mounted in plastic conduit. To avoid drilling directly into the container walls we weld additional steel strips to the inside of the container to mount the electrical fittings. Or if you have purchased a ply lined container, we fit directly onto the ply.


Partitions and other extras packages
Internal partitions, either steel or timber, with or without a connecting door, are fitted to divide the container into sections for separate usage - for example in container offices you may ask for a canteen package or toilet inside. With container workshop conversions, keeping different operations apart can be useful. We can also add a workshop package that includes a work bench, steel flooring or even an RJS beam.
See our most popular additions to container conversions below. If you have any specialist or unusual requirement please ask! We are happy to work with every client to produce a bespoke design.