What to Think About Before Installing a Shipping Container in Your Garden
Friday 31 March 2023 Filed in: General
Shipping containers are a quick, easy and low-cost choice for garden storage, or as an extra space for work, play, or relaxation in your garden. Plan ahead to make sure you avoid any unforeseen issues before it's too late.
Why have a garden container?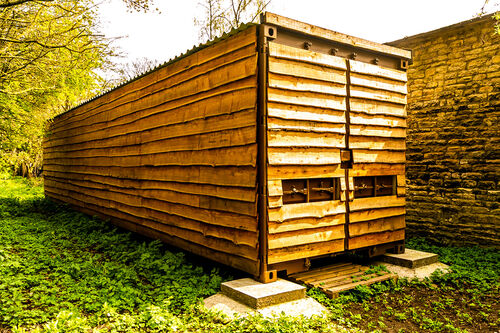 For simple storage of your garden stuff like lawn mowers, garden furniture, bikes, or even an over-spill from your house, a shipping container for storage has the advantage over traditional wooden garden sheds of being portable, watertight, secure and long-lasting . You can have a standard shipping container delivered and dropped into place ready to use immediately. You can choose from a container "as is", or from a range of
optional extras
to customise it.
If you are considering a
shipping container conversion
in your garden, perhaps a
home office
, studio,
home gym
, or a relaxation space, you'll be gaining extra space at home without having to go through the time, trouble and layout of a costly home extension.
On top of this all this, if you move house, or change your mind about the best spot in you garden for your container, you can move it - shipping containers are portable!
So once you've decided to install a shipping container you garden, let's start with the first question you're probably thinking of.
Do I need planning permission for a container in the garden?
As shipping containers are classified as temporary structures you do not normally need planning permission. However, it's always a good idea to check with your local authority as we can't guarantee that you won't need planning permission. For example, there may be special conditions in areas of natural beauty or conservation areas that mean permission is required. Even If there are conditions that apply to gain planning permission, they can usually be satisfied with the addition of
wood cladding
on the container, or a
repaint
in an approved colour like green. These help the container blend into the surroundings. Or if the sight of a shipping container in your garden bothers you personally, you can erect wooden fencing around it, or plant evergreen shrubs.
Once you've checked out planning permission, the next question should be about size and space.
What size shipping container do I need and where do I put it?
Size and shape of your garden - although it's temping to maximise the amount of space you can get from your storage container or your garden office, you don't want most of your garden taken up with it. Shipping containers for your garden can be as small as 8ft, and as big as 40ft, so there's plenty of scope in between to get the right size for your garden.

Think about positioning too - is the space more suited to having the container with the long side, or the 8ft end, facing forwards? Installing side doors in the container gives you more positioning options.




Sunlight or shade
If your container is for storage this is a less of an issue, but if you've chosen a conversion and you'll spending a lot of time in it then consider your comfort. A shady spot will be nice and cool to work in during the summer months, but may not let much light in. If you're using your garden room as a place to chill out or socialise in, you may crave a bit of sunshine. Whether you're after sun or shade, bear in mind the hours during which you'll be using your container most as the sun moves round.


Access
You may have a lovely big garden but unfortunately sometimes the surrounding access to it makes it impossible to deliver a standard shipping container. It will be delivered by a large vehicle with a hiab crane to offload. If you're unsure if your garden and the surrounding area has suitable access then read our page Delivery of Your Shipping Container. Containers Direct are always happy to assess your site from your photos to ensure you can have complete confidence before you buy.

Fortunately there are a wide range of self assembly containers suitable for gardens, either with or without restricted access. They are delivered in flat pack form, and every component is man portable, from storage containers, to offices and more!
And finally -
prepare the ground
for your container before it arrives! Hard standing level ground is recommended if possible but placing concrete slabs underneath the four corner posts, or using railway sleepers, will keep your container level, secure and prevent racking out.