10ft PLY LINED CONTAINERS FOR SALE
Our 10ft Ply lined containers for sale are the perfect budget solution for the storage of delicate items. Shipping containers have a tendency to condensate which can have severe consequences, especially if the container is storing books or clothes for example. To solve this condensation problem at Containers Direct we have developed a budget friendly
ply lining technique
which provides a belt and braces solution to the problems of condensation.
Features of the 10ft ply lined container
As with all our 10ft containers for sale, included in the price is:


Free re-paint to a choice of standard colour


Lock box for maximum security


Choice of door types from Easy Opening to Roller Shutters


Cheap hiab delivery


12 month warranty
10ft ply lined container PLY10, used
10ft ply lined container PLN10, once used
Hiab deliver
All of our 10ft ply lined containers are fabricated in our main depot on the Knowsley Industrial Park ensuring we can keep tight control over our quality and are distributed by hiab throughout the UK by our carefully selected group of hiab delivery contractors. We have regular delivery runs to all areas of the UK and "group" deliveries together to ensure cheap delivery rates.
Looking for a smaller or larger ply lined containers for sale?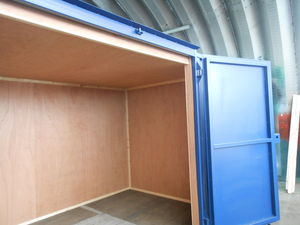 Look no further! We specialise in supplying containers of all different lengths from 5fts to 45ft and any length in-between. All of these can be ply lined and insulated. Check out these examples:
20ft ply lined container with S2 doors
40ft ply lined with S2 doors
40ft with ply lining and electrics