12ft SHIPPING CONTAINERS FOR SALE
It is hard to come by 12ft containers for sale, as this not a size manufactured from new. Most containers for storage are used shipping containers, which are made in standard sizes of 20ft and 40ft, so for any other sizes, these containers have to be cut down and modified to produce alternative sizes. Every customer will have a different sized load to store and their unique sized space to accommodate it in, so cut down shipping containers are the perfect way to ensure the demand for virtually any sized container can be met.
Cutting containers to size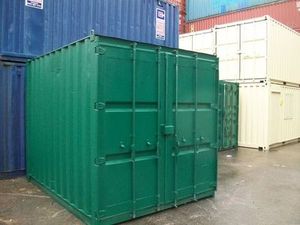 Containers Direct strive to cater for our individual customers' requirements, so if you are struggling to find 12ft containers for sale, our container conversion department can help. We start by cutting one of our larger good quality used shipping containers down to size and then offer you a choice of door types to complete the missing wall. If you prefer to keep the
original shipping container door (S2)
we leave this in place and weld a new back end piece onto the container. All our newly produced 12ft containers for sale will be completely water tight and secure.
Choosing other door styles
If you prefer, we can add new doors to our 12ft containers for sale. The doors we use to complete many of our cut down containers are preferred by many customers, as they have been specifically designed with smaller storage containers in mind and their typical user. Much less weighty and easy to open and close they are a favourite with schools and for private garden storage. We call this
door type S1
- available with or without
compressed door seal
.
As an upgrade to the S1 door, we offer the
door type S3
. This comes with a double locking arm and rubber seal.
We add in a free lock box to prevent tampering with the container padlock with S1,S2 and S3 door types.
Padlocks
can be purchased separately.
We offer a fourth alternative, the
roller shutter S4 door
, which many of our commercial customers find particularly convenient for unrestricted loading access.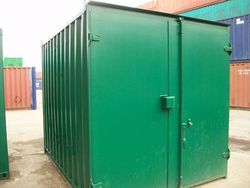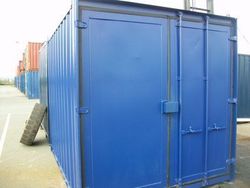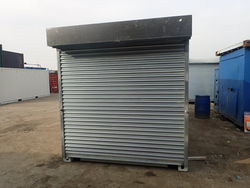 A new coat of colour
All our 12ft containers for sale are repainted on the outside before release, to give a newer appearance and provide a barrier against surface damage. Standard colours are blue and green, but if you would like your container repainted in a specific colour, please see the vast choice of colours available on our
colour chart
.
Container accessories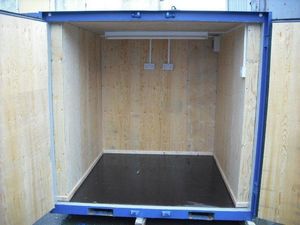 With all our shipping containers we offer an extensive range of optional extras that can help take the hassle out of storage. As well as shelving and electrics, we have solutions to condensation inside containers. Choose from:
Other sizes available
As well as 12ft containers for sale, Containers Direct have a range of other specialist sizes of storage containers for sale. Our
10ft
and
15ft
are our biggest sellers after the standard 20ft shipping container.
Testimonial
We provided Kingdom Hall of Jehovah's Witnessess in Middlesex with a storage container with S1 doors. After taking delivery of the container, we received this feedback:

"Excellent company, great product, excellent communication all the way through process of purchasing."