16FT CONTAINERS SECOND HAND
Shipping containers are not manufactured from new in 16ft lengths, as odd sizes are not compatible with the systems designed to transport shipping containers overseas. However, as shipping containers also make excellent quality storage containers, Containers Direct see no reason why these should be restricted to the standard sizes of 20ft and 40ft manufactured from new. Therefore we have our own container conversion workshops for the purpose of adapting containers to the perfect storage units to meet our clients' requirements.
Making 16ft containers
We start by taking used, but good quality
40ft shipping containers
and slicing them down to a length of 16ft. If we leave the front wall intact, this means the container then requires a new door to replace the one cut off the back end (correct container terminology considers the door to be the back end of the container, although in layman's terms the door end should be the front of the container!) This gives us a great opportunity to put our design skills into place and to provide the doors best suited to our clients' needs, and the result is a choice of four distinct container types, each with its own merits.
Please note cut down containers are not suitable for shipping, stacking or lifting when loaded. They can be modified upon request if these conditions are required.
Flat panel doors S1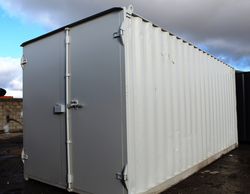 S1 16FT CONTAINERS
- A standard cut down shipping container with precision made doors that are perfect for frequently used storage containers. Made from flat steel panels that are light enough for all to use, but secure enough to deter thieves. Perfect for use as an equipment or garden store.
Cost £1450 plus VAT
Recommended Product!
Why not add compressed door seals* to your S1 container for only
£65.00 plus VAT
Original shipping container doors S2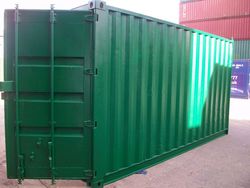 S2 16FT CONTAINERS
- These are made from the back end of the shipping container, so we leave the original door in tact and weld on a new front end wall. Shipping container doors are made from thick corrugated steel panels, with a rubber seal to keep out water. These doors are built to the highest standards, but this also makes them quite cumbersome to use, and for many storage containers this can outweigh the benefits. The preferred choice for building and construction site storage.
Cost £1450 plus VAT
Flat panel rubber sealed doors S3
At Containers Direct we offer a unique third option which combines the advantages of both types of door. We are lucky to have manufacturing facilities on site and have designed and manufactured a door which is both easy to use and is superior in quality. Although the appearance of S3 doors may differ slightly from container to container, they all share these characteristics: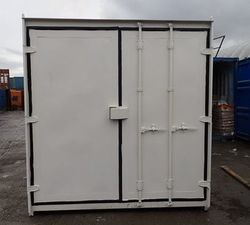 New/once-used


External rubber door seals


Waist high handles


Two locking arms on the right hand door only


Shoot bolts on the left hand door
S3 16FT CONTAINERS
Cost £1625 plus VAT
Roller Shutter doors S4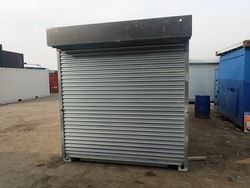 S4 16FT CONTAINERS
- The roller shutter door allows plenty of room for loading, especially if using a fork lift. 8ft wide, made from galvanised steel, roller shutters can be manually or auomatically operated.
Cost for manual option £1950 plus VAT
(Please enquire for cost of electric option)
Personnel doors S5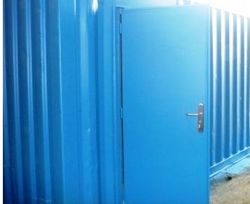 These are steel
personnel doors
, suitable for frequent pedestrian use in out of the container, incorporating multi deadlocks and offering high levels of security. Personnel doors are the preferred door type for our
portable site office units
, and other conversions, such as offices, classrooms, workshops and equipment stores.
Price per personnel door - £565 plus VAT
Side doors
Doors can also be positioned in the side of the container. Choose from S1, S3, S4 (roller shutter) and S5 (personnel door). We also supply
extra wide side doors
, and
multiple sets
where size allows. You can have a
side door
to replace the end door, or in addition to.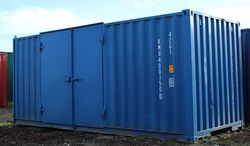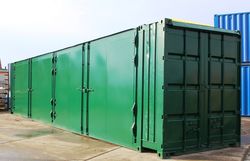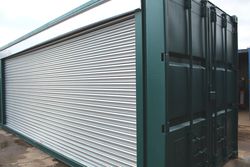 Free lockbox and painting!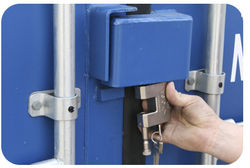 All containers come with a lock box to prevent the door lock from being tampered with.
Exterior repainting is available in a wide range of
colours
.
Please note, for very light or bright paint options (ie white, yellow, red, orange) there is a charge of £100
Optional Extras
Padlock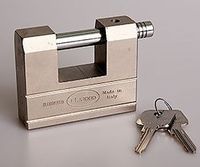 Add one of our specialist
Lock 2000 padlocks
, compatible for use with the lock box, for a discounted price of
£35 plus VAT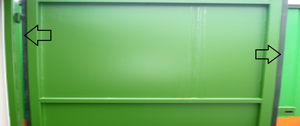 Add this to the S1 door, for added watertightness
Cost £65 plus VAT
Interior repainting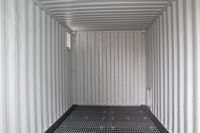 An
interior repaint
can instantly improve the appearance of used containers.
Cost - £170 plus VAT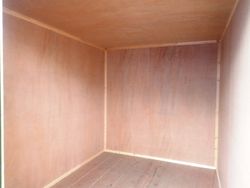 A ply lining combined with rockwool insulation will keep the container at a constant temperature and provide the most resistant measure against condensation.
Cost to line 16ft container - from £950 plus VAT
Cladding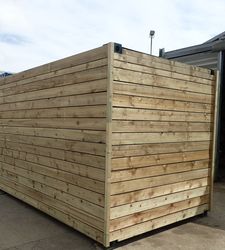 "Disguise" your container with wood cladding. It protects, looks good, and can help with planning permission. Choose from three standard types of wood, or enquire about bespoke finishes. For more details read our page
Cladded Shipping Containers
Cost to clad a 16ft container start from £980 plus VAT
Shelving Racks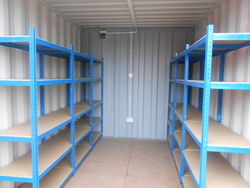 Make best use of all the available space, and keep things tidy and well organised with
shelving
.
Cost per bay (1m/3ft wide) - £60 plus VAT fitted, OR £45 plus VAT self fitted
Electrics
Choose from two
electrical package
options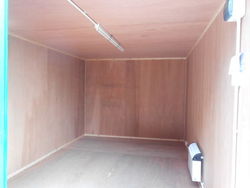 Option 1:
One external hook up, a consumer unit, light switch, two 5ft strip lights with diffuser, a double socket - from
£330 plus VAT
Option 2:
One external hook up, a consumer unit, light switch, two 5ft strip lights with diffuser, two double sockets and wall heater - from
£420 plus VAT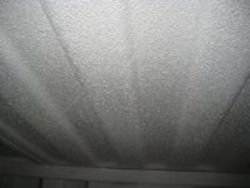 An anti condensation treatment to repel moisture and protect contents from moisture damage
Cost to treat 16ft container - £160 plus VAT
Ramps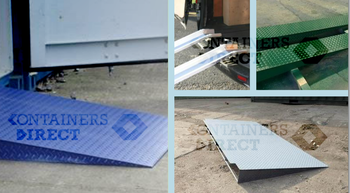 We offer a variety of
ramps for containers
- car ramps. heavy duty ramps, lightweight ramps, hinged ramps and bespoke builds. A range of sizes are also available.
Cost from £205 plus VAT

16ft New Shipping Containers from £1995*
*Limited time only, while stocks last. Usual price from £2195
Testimonial
"The container looks fine and am happy to go with it, must say you guys are on the ball with customer service both you and the girls kept in touch through out very professional.

Cheers
Brian"