16FT SHIPPING CONTAINERS
Standard sized shipping containers are manufactured in two sizes of 20ft and 40ft, which is fine if you need 20ft or 40ft of storage space, but for anything in between, cut up containers are there to fill the gap. Shipping containers can be used to make any odd sized container the customer requires, and we often get requests for 16ft shippping containers.
The unbeatable quality of shipping containers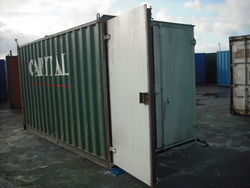 Containers Direct sell 16ft shipping containers, fabricated from top quality original shipping containers to give you the best product around for storage. Because they are made from shipping containers, they give excellent protection against theft and vandalism, are fully watertight and exceptionally sturdy. It is important to bear in mind that although modified containers make superb storage units, they are not suitable for shipping. If you require a container for shipping it's essential to check it has certified and plated to ISO standards.
Shipping doors and storage doors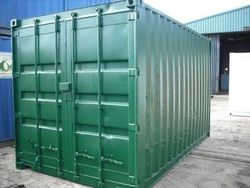 This
16ft shipping container
comes with the original shipping container
S2 doors
, which are made from corrugated steel and have a rubber seal.
Containers Direct offer options to fit different door types, designed for storage use:
S1 doors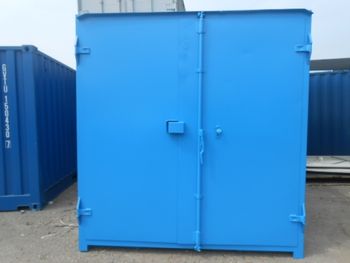 Flat steel panels - easy to open and shut


Single locking bar


Optional compressed door seal







S3 doors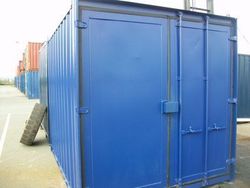 Flat steel panels - easy to open and shut


Twin locking bars


Rubber door seal


S4 doors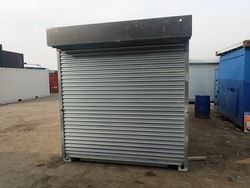 Steel roller shutter


Padlock both sides


Manual or electric control


Side doors for easy access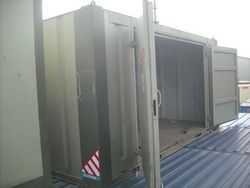 Because 16ft shipping containers are modified and therefore do not have to conform to specified shipping standards, you will frequently find models with doors repositioned to the side of the container, or even double sets of doors. This makes the job of loading and unloading the container far easier, as you can see on this
side door container
. Loading pallets fit easily through these doors!
Other odd sized containers
As well as 16ft shipping containers, we also sell other 'odd sized' containers, again cut up from standard sized shipping containers. We can make any size upon request - whether it's 8ft, 18ft or 30ft. See for example, this unusually sized
17ft container
with original shipping container doors.
Container accessories and improvements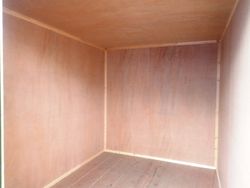 All our second hand containers come with a free lockbox and new coat of paint. As an optional extra we can pre-treat your container with
Grafotherm
to reduce condensation, or for complete protection,
ply line and insulate
.
For a comprehensive list, see our
optional extras
news page.
Testimonial
"Excellent service as normal and great quality container. Will be back when we need another one."
- Matthew, from John Preston Pool and Spa services