20ft FULL SIDE ACCESS

Need plenty of room for loading/unloading? Or do you need to transport extra heavy items? Our
20ft full side access
containers are specialist shipping containers that can cater for both over sized or heavy loads, or can be simply be used for fast and convenient loading.
Making light work of loading
Standard containers are accessed via 8ft wide cargo doors, which can make loading tricky in some circumstances, and also means the container has to be sited with the narrow end facing outwards. But with two sets of double bi-folding doors in the long side (as well as the standard 8ft end door!) not only is full side access granted, but the container can also be situated with the long side facing outwards. Imagine how much simpler this can make gaining access to your container, and everything inside it. No need to bring everything out through the small end door just to access that one item at the back, when you can open the whole thing up completely! Fuss free and time saving, and with plenty of room to drive a fork lift inside if needed, side access containers are the Rolls-Royce of containers.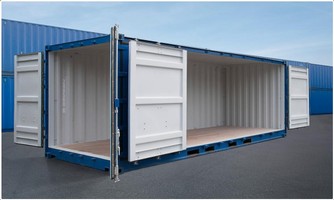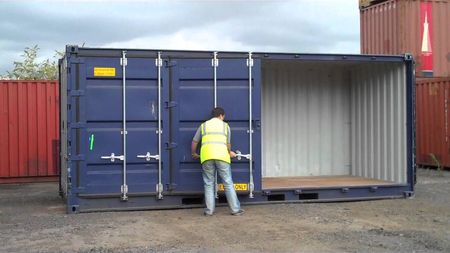 Specifications
Full side access containers come in standard 20ft container dimensions - 20ft long x 8ft wide x 8ft 6in high. Because the full length, double bi-folding doors present an additional weight bearing force on the container, the floor and roof are reinforced to cope with the extra demand, which makes the internal height of the container slightly less than standard containers. However, these reinforcements make them ideal for transporting extra heavy goods.

Dimensions
External:
Length = 6.05m / 19ft 10in


Width = 2.43m / 8ft 0in


Height = 2.59m / 8ft 6in


Internal:
Length = 5.89m / 19ft 4in


Width = 2.28m / 7ft 6in


Height = 2.29m / 7ft 6in


For other 20ft containers with side access, see our article 20ft Side Access Containers.
Other sizes available:
If you really need that extra bit of internal height, the full side access container is also available in high cube form - with a height of 9ft 6in. And for that extra, extra large requirement, there is the 40ft long high cube container.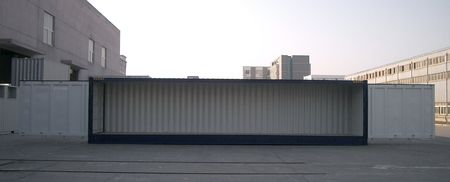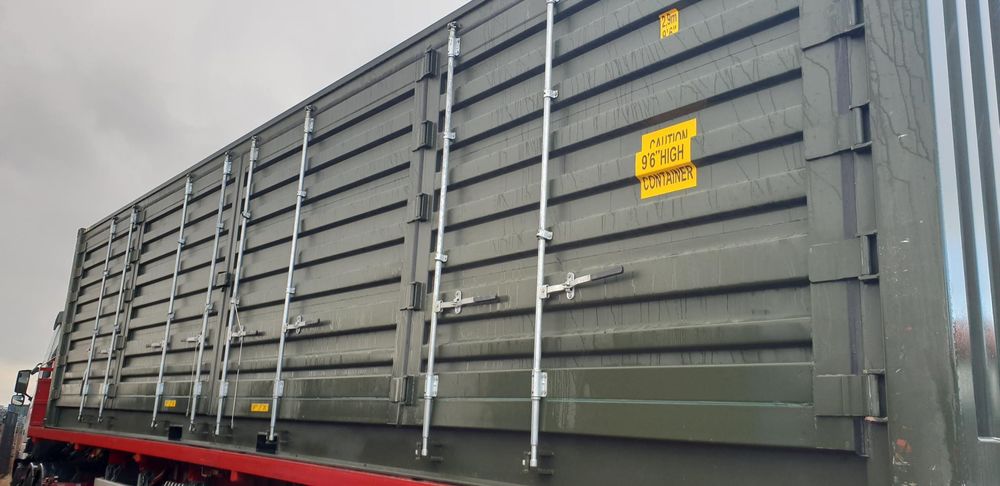 Door configurations:
There are three options to choose from:


50/50 configuration with left hand side end door


50/50 configuration with right hand side end door


80/20 configuration with left hand side end door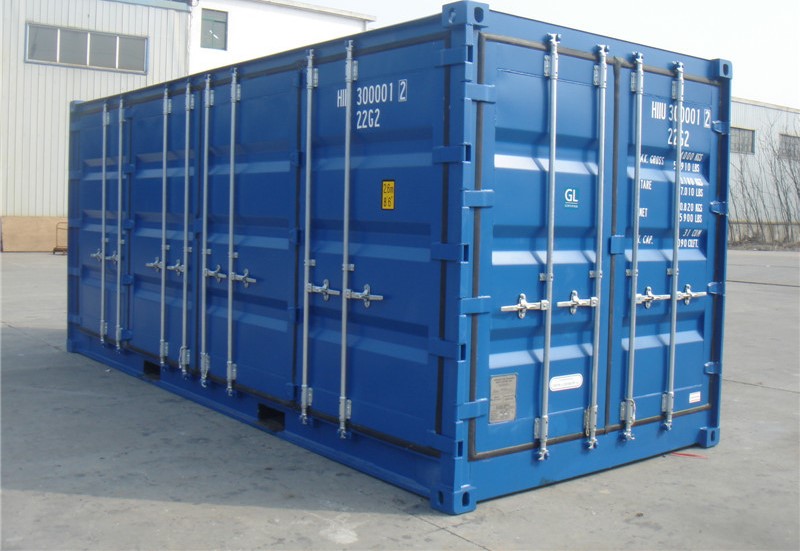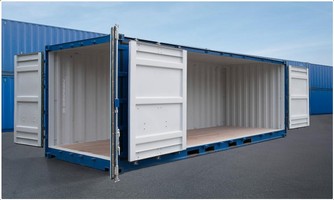 Don't need
full
side access? Take a look at our alternative
side door options
.
Full side access containers for conversions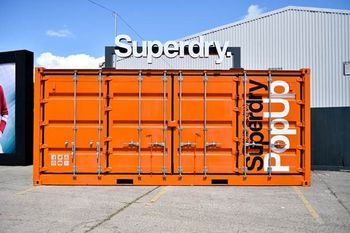 In recent years the demand for using shipping containers as a cost effective way to provide accommodation for businesses has soared. Full side access containers are ideal for use as "pop up" units, and with a few simple conversion features can be used for catering, retail, events and exhibitions. We can carry out all conversion work on our premises, as we did with this great example of a
pop up shop
for the clothing brand Superdry.
For more details on options for container modifications, visit our page
Container Conversions
.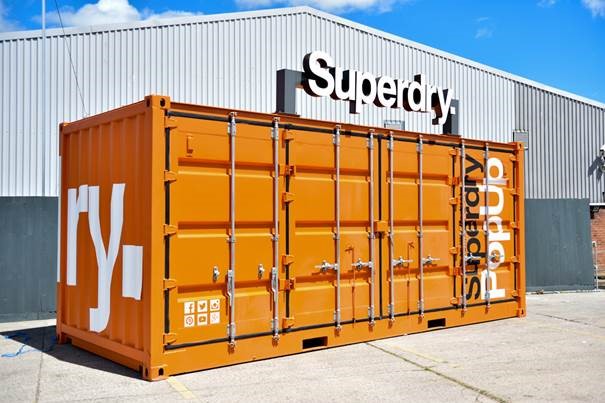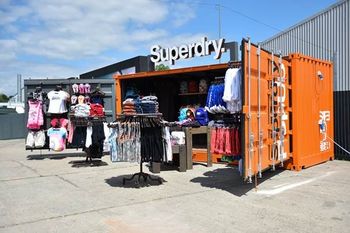 OPTIONAL EXTRAS
Repainting
Have your container repainted to your own choice of
colour
in rubberised container paint. This significantly improves the cosmetic appearance of the container as well as adding an extra layer of protection to help extend the life of the container.
Cost to repaint a 20ft container - £195 plus VAT
.
Please note for very light or bright paint options (i.e. white, yellow, red, orange) there is a supplementary charge over standard repainting rates.
Padlock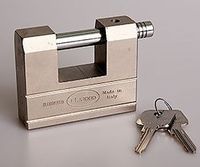 Add one of our specialist
Lock 2000 padlocks
, compatible for use with the lock box, for a discounted price of
£35 plus VAT
Lockbox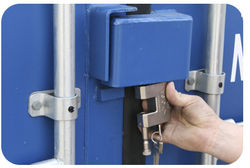 This steel
lockbox
protects the padlock from tampering - price
£55 plus VAT
Ply Lining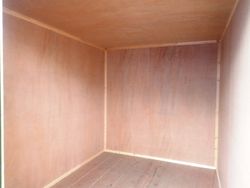 For maximum protection against condensation damage inside your container, a plywood lining incorporating insulating material can be fitted to the walls and ceiling. For more details, read our page on
ply lined containers
.
Cost to supply and fit a 20ft ply lining - from £1050 plus VAT
Cladding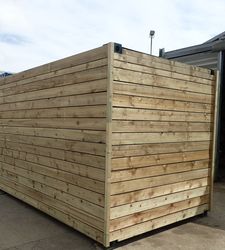 "Disguise" your container with wood cladding. It protects, looks good, and can help with planning permission. Choose from three standard types of wood, or enquire about bespoke finishes. For more details read our page
Cladded Shipping Containers
.
Cost to clad a 20ft container start from £1265 plus VAT
Shelving Racks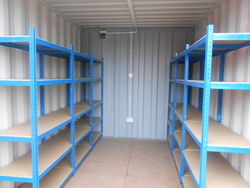 For well-organised and optimum use of space inside your container, choose our customised container
shelving racks
.
Cost per bay (1m/3ft wide) - £60 plus VAT - fitted, OR £45 plus VAT - self fitting
Electrics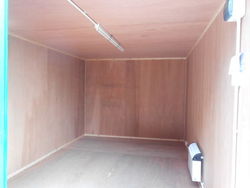 Heating, lighting and power sockets can be installing within your container with our
electrical packs
. We offer two standard options:

Option 1: One external hook up, a consumer unit, light switch, 2 x 5ft strip light with diffuser, a double socket - from £350 plus VAT
Option 2: One external hook up, a consumer unit, light switch, two 5ft strip lights with diffusers, two double sockets and wall heater - from £450 plus VAT

Grafotherm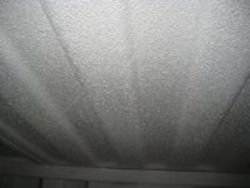 Banish condensation in your container by opting for
Grafotherm
, treatment. This is simply spayed onto the inside walls and ceiling of the container, to repel, absorb and aid drying of moisture.
Cost to treat a 20ft container - £190 plus VAT
.
Ramps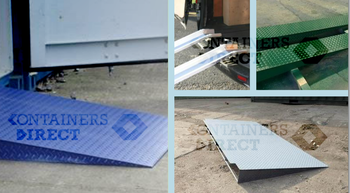 We offer a variety of
ramps for containers
- car ramps. heavy duty ramps, lightweight ramps, hinged ramps and bespoke builds. A range of sizes are also available.
Cost from £205 plus VAT
As an example, this
20ft full side access container
has been ply lined and insulated, and fitted with electrics.