20FT SHIPPING CONTAINERS FOR STORAGE
Containers Direct specialise in 20ft shipping containers for storage. Whether a cut down or standard ISO, these units are ideal for storage. A shipping container becomes a storage container as soon as we install a lockbox; a shield to safeguard your padlock and the contents of your unit. The installation of the lockbox means these units are outside of the ISO remit, and can no longer be shipped, however the structural integrity and strength of the container remains to be used in a variety of ways but most commonly for secure storage.
As with all of our shipping containers, we offer an extensive range of
optional extras
that can help take the hassle out of storage. As well as shelving and electrics, we have solutions to reduce condensation inside containers and a variety of door options to help make the most of your 20ft shipping container for storage.
A popular product
20ft containers feature frequently in our stock. Check out our current products below:
Used 20ft S2 doors
Used 20ft S3 doors used
Used 20ft S2 doors repainted
Used 20ft S1 doors repainted
Once used 20ft S2
Once used 20ft S1
Used or once used?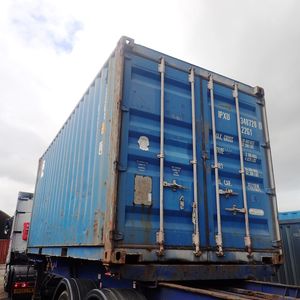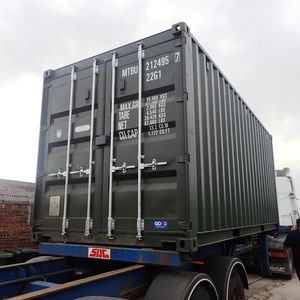 Our 20ft shipping containers for storage come either used (anywhere from 10-20 years old) or once used (single loaded trip into the UK). Our used units come in two grades: FG or SG, and will be retired shipping lines units, so wear and repair is evident. The once used units will only have been shipped once, and for all intents and purposes are new! Our experienced sales team can guide you to the best product to suit you and your budget.
Smaller or larger?
As well as offering 20ft Shipping containers for storage, we are unique in offering a wide range of other sizes. Our
10ft
and
15ft
are our biggest sellers, closely followed by our
25ft
,
30ft
and
40ft
units.
Testimonial
"Very high quality, extremely helpful - on the whole, the service and product was excellent"
From Gareth Gerrard of G.Owen and Sons, after purchasing two 20ft once used storage containers.