20FT SITE STORE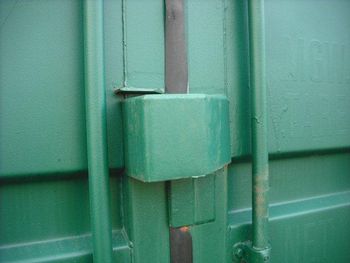 If you have valuable goods to store and don't want the cost and aggravation of a permanent structure such as a shed, a 20ft site store is the answer. Made of steel and with the capacity to be moved from one site to another, a site store will protect your storage items from the elements and theft. They are waterproof, rust proof and can be locked with one of our specialist
Italian padlocks
, and for that extra peace of mind, a lockbox to protect and conceal the padlock can be fitted too.
The standard 20ft shipping container as a site store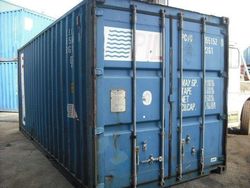 These are ideal for use as a storage unit, and excellent value as there is a surplus of shipping containers in the UK. They are sold off after shipping, and then used as cheap and reliable storage containers. 20ft stores are the most common size, as most shipping containers come in standard sizes of 20ft long and 8ft wide. Standard sizing allows them to be shipped together for maximum cost effectiveness. An alternative standard sized shipping container of
40ft
, for extra large loads, is available, and Containers Direct also sell these on as site stores.
Shipping containers modified for storage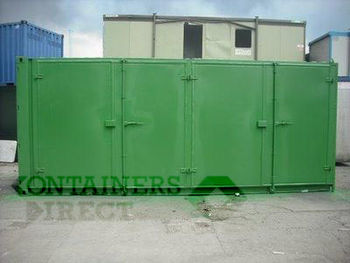 Although standard shipping containers give you the best value 20ft site store, there are alternatives on the market. Shipping containers can be modified specifically for storage, and as they no longer need to conform to shipping standards, there are many different sizes available, along with other specifications that are not compatible with the standards set for shipping. For instance, shipping containers must have their doors positioned at the narrow end of the body, which is not always the most convenient position for a site store. Therefore a 20ft site store designed for storage may be the best option if would need to have doors on the longside of the container body, or would prefer lighter flat panelled doors. This
20ft storage container
has both of these features, and like many storage containers has been modified from an original shipping container.
Unrivalled delivery costs using our regional depots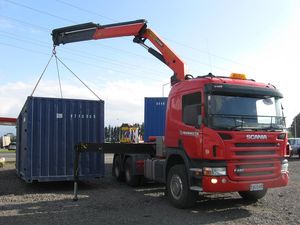 Whether you chose an ex shipping container, or a purpose built storage container for your 20ft site store, Containers Direct can offer exceptional value on delivery rates, as we have supply depots throughout the UK. This means we can deliver anywhere without adding on the high cost of a long distance journey. Our newest supply depot is based in Southampton, where we have a batch of
20ft site stores
ready to be released. This means our customers in the South West can now enjoy the same value delivery rates as our customers in other parts of the UK.