40FT SITE STORE
The 40ft site store is the largest size storage container there is. Most of these are shipping containers which have been taken out of use for shipping, and put to use as storage containers.
What's the difference between a modified and unmodified store?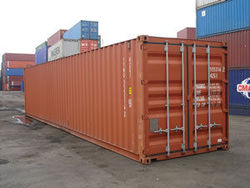 Containers for storage are either sold in their original form, with front facing, rubber sealed doors, as with this
40ft site store
, or they will have changes made to adapt them for use as a storage unit. Once a container has been taken out of use for shipping it is no longer subject to the stringent regulations of the ISO to certify it as suitable for shipping, so modifications can be made to it.
Additional doors and features for convenience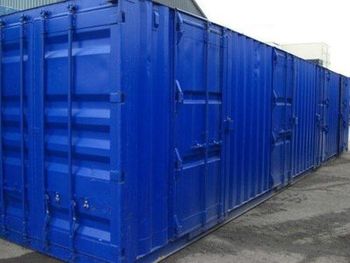 Due to its size the 40ft site store is normally used for industrial purposes, so many will retain their original doors. However, extra doors can be fitted for more convenient access, and the interior can be fitted with extras to make storage more organised. It can be a simple as
shelving
or completely partitioned separate rooms, like this
40ft storage container
held in our Manchester supply depot. In addition to 5 rooms, it also has 4 extra doors.
Repainting for an attractive AND protective finish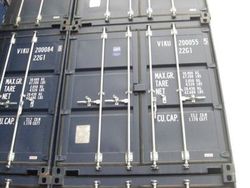 Shipping containers are all marked on the front with an identification number, along with other important information required under shipping regulations. This can look a little unattractive and is no longer necessary on a storage container, so to give your 40ft site store a less industrial appearance,and to cover any cosmetic scuffs, repainting in a special rubberised container paint is recommended. This also extends the life of your store significantly. Blue and
green
are the standard colours stocked, although we do have a wide range of other colours to be chose from, with a six week lead time.
Regional supplier depots to cut delivery costs
As well as a supplier depot in Manchester, Containers Direct use other supplier depots throughout the UK (Wales, the Midlands, Southampton, Liverpool and London, to name a few), where we hold various container models for release, including the 40ft site store This helps us to keep delivery costs to a minimum, and pass these savings on to the customer.