5ft Wide Containers
Do you need extra storage space but have limited space to site a standard 8ft wide storage container? Containers Direct are now producing a new range of custom built SlimLine® containers, and can provide containers even as small as 5ft wide that will fit even the narrowest of spaces! Perfect for making the most of otherwise dead space that is off-limits to standard shipping containers. Also great for storing bikes and tools that need to be secured but don't take up a lot of space.
Length options available to fit your own requirements
Without compromising on total cubic capacity our 5ft wide containers can be built to any required length - for example, this
12ft long model
has plenty of room inside. The unique advantage of Slimline® containers is we can build them to
ANY
size our clients' require, which means we build the container to fit your available space.
How we make 5ft wide containers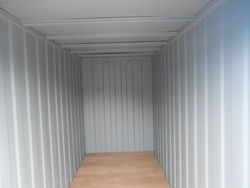 All our custom width containers are new build, constructed in our own on-site workshops and have the following features:
Made from brand new steel sheeting, corrugated on our machines for a stronger structure


Ply wood flooring laid over steel chassis


Compressed seal steel doors with locking arms and security lock box


Fitted lifting eyes for moving


Exterior painting to your chosen colour with protective container paint
Other features available on 5ft wide containers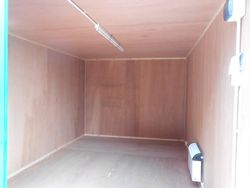 A number of additional options can be ordered to enhance the performance of your container. These include:
SlimLine® containers are also available in 6ft and 7ft widths.

For your specific size requirements of these storage containers please call our sales team on 0800 061 2575, who will be able to advise before ordering.