8ft CONTAINERS FOR SALE
8ft containers make excellent stores for bikes (including motorbikes) and small storage loads. They are also very popular as an alternative to the traditional garden shed, whether it's for the back garden or an allotment. As these containers are made from shipping containers, they offer unbeatable levels of security and durability and are guaranteed waterproof and rust proof.
Three doors to choose from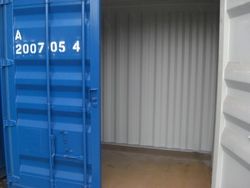 At Containers Direct we produce these 8ft containers in our own workshops, by cutting up larger, standard sized shipping containers, and completing them with a choice of doors according to customer preference. We offer three distinct door types, each with its own benefits. We categorise them as S1, S2 and S3 containers.
S1 containers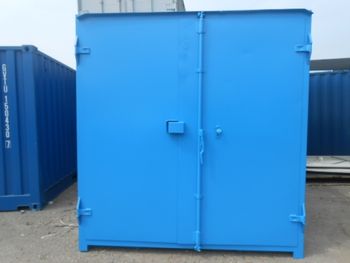 S1 doors
are recommended for everyday use, as they are much lighter and easier to handle than original shipping container doors. Made from flat steel panels with a single locking arm, their reduced bulk makes them easier to open and close without compromising on security.
We offer a free lock box with 8ft products to maximise security. This lockable metal box encases the container padlock to deter thieves.
S2 containers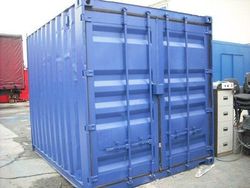 S2 containers
are fabricated by leaving the original shipping container door in tact. Shipping container doors are made from corrugated steel which is more robust than other container doors, so they can be a little heavy for frequent use, but this can also act as a theft deterrent. The other advantage to shipping container doors is the inclusion of a rubber seal to keep even the tiniest droplets of water at bay.
S3 containers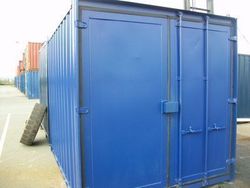 S3 doors
are a unique creation by Containers Direct, whereby we have combined the best features of S1 and S2 doors - flat steel panels with an added rubber seal. These doors also have two locking arms. So you can have a door that is both light and easy to use but offers maximum protection.
Keeping the inside of your container dry
Although all our shipping containers are waterproof, condensation is an inevitable part of outdoor storage in fluctuating temperatures. Depending upon what type of items you are storing in your container, this can be a problem if not treated. Therefore we recommend doors with rubber seals for the storage of items easily damaged by moisture, such as fabrics and paper goods, and use of an effective condensation prevention. Containers Direct can treat any container upon request with
GRAFOTHERM
which is sprayed onto the container walls and ceiling to reduce condensation problems.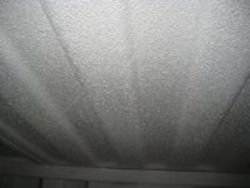 For treating 8ft containers with grafotherm, please add £90 to the price.
Repainting
All our 8ft containers are sold freshly painted externally in a new coat of specialised container paint, which improves the appearance of the container, and protects it against wear and tear. With a wide choice of
colours
to select from, you can either make your container stand out from the crowd, or have it blend in with a traditional blue or green coating.
Container dimensions
| Container Type | Width | Depth | Height |
| --- | --- | --- | --- |
| 8ft | 8ft | 5ft | 8ft 6in |
Price of 8ft second hand containers
£1195 plus VAT for S1 and S2 doors
£1370 plus VAT for S3 doors
Add a container
padlock
for just £35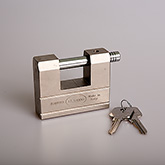 Testimonial
"Great product with very good customer service. Fast delivery. Highly recommended."
Julian Owen, OS2 Limited