Collapsible Containers
Collapsible containers are mobile storage units, or
flat pack containers
that are screwed together on site, while maintaining the capacity for quick and easy rehoming. This makes them a great all rounder for general purpose storage in any setting, either business or domestic, especially on a temporary basis.
Quick and easy!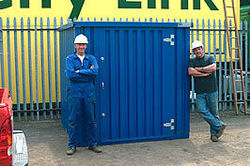 The whole process of moving a collapsible container should take no more than a couple of hours from start to finish and can be done during quiet times at work (or on your day if used for private storage).
These containers can go to the parts other containers cannot reach! Non collapsible stores require hiab delivery (lorry mounted cranes) which is not only expensive, but can be impossible for places with limited access. This is where collapsible containers come into their own, because they are transported in a flat pack, there are no obstacles to getting them delivered, even if it's to the back of your house! On top of this, you will make substantial savings on the cost of delivery. This also makes them ideal as a mobile store, for frequent moving.
Combining lower costs with quality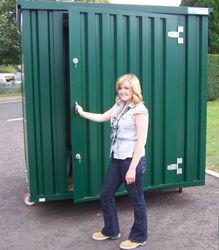 The purchase price of collapsible container is also lower than ordinary containers, but this is no compromise on quality. They are manufactured from galvanised steel, with ply board flooring in a steel frame, giving them longevity and resistance to damage, intruders and adverse weather conditions.
Taking the hassle out of self assembly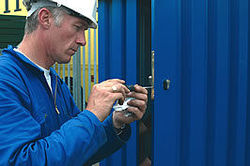 Full technical support is offered on the how to put together our collapsible containers, but if you are wary of self assembly products (which have been given a bad name by certain stores that shall remain nameless), have a look at our
initial guide
and make up your own mind. No specialist tools are required and two people can have the
2m
store up in less than an hour. Larger COLLAPSIBLE CONTAINERS of
3m
and
4m
will take a little more manpower, but the process remains the same. All sizes are compact enough when collapsed to be stashed away for future use.
Collapsible container dimensions
| Container Type | Length | Width | Height |
| --- | --- | --- | --- |
| 2m | 2.1m | 2.1m | 2.1m |
| 3m | 3.1m | 2.1m | 2.1m |
| 4m | 4.1m | 2.1m | 2.1m |