Delivery of Your Shipping Container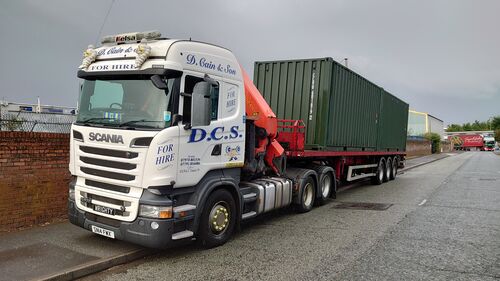 Bringing you the best prices at local rates!
Containers Direct have been modifying, building, selling and transporting shipping containers since 2003. We know our stuff from
container conversions
, through to
storage containers
and
bespoke new builds
. Our expert sales team provide quotes combining competitive container prices with container transport rates supplied by our network of nationwide hauliers. We subcontract our haulage to experienced and highly skilled drivers using vehicles with hiab cranes as standard to enable delivery of your shipping container.
Containers Direct endeavour to give you the best value container transport and delivery service rate possible, by using our supplier depot closest to your location. We have supplier depots and hauliers situated across the UK, to avoid the costs of a long distance delivery, and save time and money wherever you may live.
Artic Wagon
A smooth delivery, wherever you are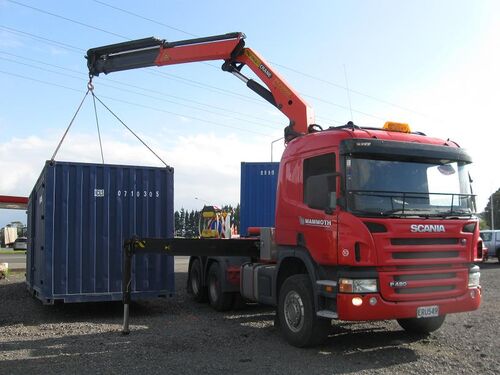 Our contracted drivers have the proud reputation of being able to handle any container delivery skillfully and professionally - even the most challenging! So whether it's a very tight spot, tricky terrain, or a short window of opportunity on a busy road, we will do our best to deliver the service you require!
Types of delivery
As standard, we price based on the idea of shared deliveries. Apart from the 40ft and 45ft (which is the maximum size an artic lorry can deliver), we try and pair up deliveries based on location and size of container to keep transport costs competitive for our customers. For example, we can fit four 10ft containers on one shared load, keeping delivery costs shared between all four deliveries.


If you have site concerns or access issues, or if you require delivery of your shipping container to fall within a particular time frame or on a certain date, perhaps to meet a crane on site, we might need to look at a dedicated delivery. This may be more expensive, however it means you have a better control over the times, dates and vehicle size. Our sales team would be able to guide you through the various options to ensure delivery of your shipping container goes as smoothly as possible.


The other option available is own collection. Where customers are able to provide their own container transport, you would be able to collect your unit from the depot. Our sales team can advise on the type of vehicle suitable for own collection.
Haulage vehicle types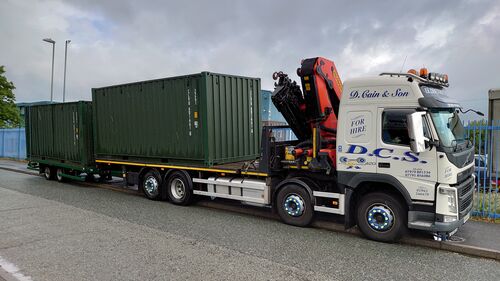 The standard vehicle we would use for the delivery of your shipping container on a shared load basis would be an artic lorry with hiab. These vehicles are approximately 65ft long, 10ft wide and 14ft high. The other vehicle we would potentially use is a wagon and drag (pictured right) which is a 39ft long rigid vehicle with a hiab crane, pulling an additional 20ft trailer.


If site access is a concern, we may be able to facilitate the delivery of your shipping container on just a 39ft rigid, or a wagon and drag with the trailer dropped in a safe location on site. Significantly shorter in length, this container transport has greater capability if access is restricted, and still comes with a hiab crane to offload. Please bear in mind that the maximum size of container a rigid can deliver is a 30ft, and if your site can only accept a rigid with no space to drop the detachable trailer, this would be priced on a dedicated rate.


The smallest vehicle we use is only available for shipping containers up to 15ft long (at most!). This vehicle is a 24ft long 7.5 tonner, however if with a hiab crane, the capability and reach of the crane is severely limited and only capable of delivering 10fts. If over 10ft, the vehicle can still deliver up to 15ft in length, but you will need something on site to offload the unit when it arrives. This vehicle is only available on a dedicated rate.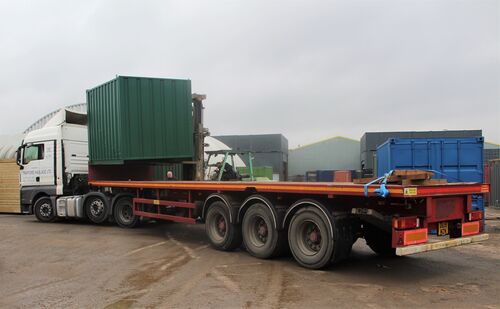 Top tips for a successful delivery
As an experienced container haulage company we've been doing this for a long time, and so we've compiled a list of top tips with things to consider when looking at your site access or potential delivery:
What is access like? Remember our standard delivery vehicles are as long as a large coach, and approximately 10ft wide. They typically like to drive into site, offload the container parallel to the side of the lorry, turn around and drive back out. If you're not sure there's space for a 65ft long vehicle to enter the site and/or turn around, let us know and provide some photos of your site, and we can take a look and let you know if we can see any issues. If we're unable to determine this based on the photos, we may recommend a site survey and can provide a price for this service.


Hard-standing ground only please! These vehicles, even the smaller ones, are incredibly heavy. Especially when you factor in the weight of the container too! They will not cross soft ground e.g. grass, gravel over soil, shale etc. as it's very likely that they'll get stuck. If they do, it will be the site's responsibility to get them back out, so make sure the ground they have to cover is hardstanding only!


Overhead cables. If you want your container delivered into a location with overhead power lines or telephone lines directly above, you might electrocute your driver. This is definitely not an ideal outcome! Drivers will not, for obvious safety reasons, deliver a container where a power line might interrupt the reach of the hiab. Better safe than sorry!


Don't forget the legs! Vehicles with a hiab cranes extend "legs" to support the vehicle whilst they hiab off the container. These legs extend approximately 6ft out on each side, and are essential for the safe and smooth delivery of your shipping container. Please check that where you want to site the container can accommodate both the vehicle and the legs.


Level ground. Not only essential for the container to be sited on to avoid racking out, but hiab vehicles are mostly unable to deliver below the level of the ground they are on. You could end up tipping the lorry, and nobody wants that! (see below).For more on how to prepare your ground for container delivery, read our page Preparing the Ground for Your Container.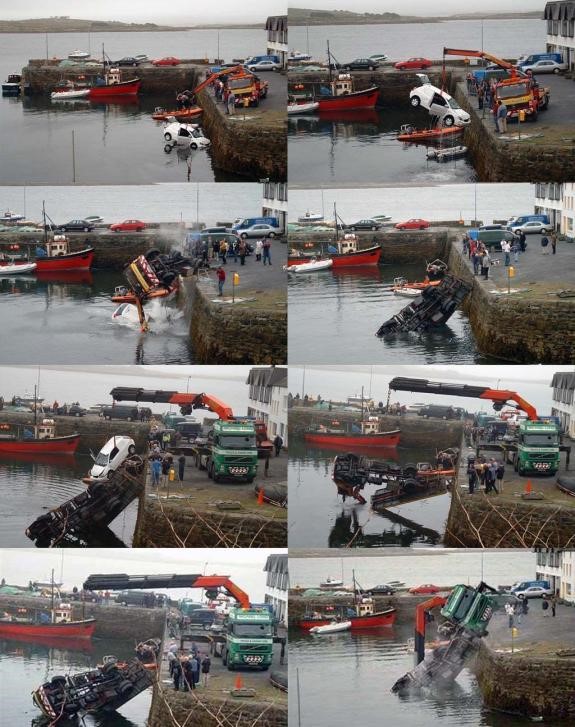 Worried about access? See our guide to taking the best site access photos for us to review.
What our customers say
Have a look at some of the feedback from our clients who've been impressed (and entertained!) with our delivery service.

From Mark Taylor
"Delivery driver was polite knowledgeable and efficient."

From Our Lady St Edwards RC Primary School
"Delivery driver extremely helpful in placing the container exactly where we requested."

From Romney Resource 2000 Ltd
"Driver was a top bloke and persisted with delivery despite challenges"

From Laura Breen at Trunki, Get Set, Go! (children's travel products)
"It was incredible to watch the container being suspended in mid air and we're really chuffed :D Please could you pass on my massive thanks to the delivery guys this morning -they were fab. Huge thanks to you all!"

From Bob Beavis, Premises Manager at The Southwater Junior Academy, West Sussex. As this delivery was to a school, we understood that it had to be completed safely, out of school hours:
"Just wanted to say thank you for your help and understanding yesterday in arranging delivery for first thing this morning.
The driver was waiting my arrival at 7.05 I had him safely on site , unloaded and the container in exact position and he was off site by 7.45, well before any children on site - perfect."

Paul Dooley in Bicester asked us to avoid school pick up time, and was very happy with the service we provided:
"I am really pleased with my new container, your driver who dropped it off was brilliant. He made it look so easy, he was like a kid playing with a very large toy!"

Hettie Bowles at Original BTC LTD:
Driver and crane driver were both fantastic, really helpful and friendly"