Containers For Golf Buggies
Steel shipping containers make strong, economical and secure storage containers for golf buggies. Made of very strong, weather resistant steel, shipping containers are an unbeatable alternative to traditional storage buildings, and are just a fraction of the cost! They don't require planning permission and can be delivered and installed ready to use in as little as a couple of days after purchase.
Flexible siting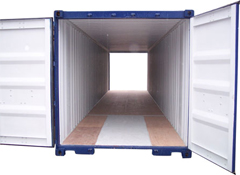 Unlike a traditional building, a shipping container has few restrictions when it comes to deciding where to position it on your site - it can even be moved from one spot to another at a later date. Many clubs use shipping containers to provide easy access to the course for disabled members by using them as a store for disabled golf buggies situated within close proximity to the course.
Flexible sizing
Whether you wish to store a single buggy for private use, or you manage a golf club and are looking for storage for a whole fleet, we can provide the right sized container. For golf clubs requiring multiple storage spaces, we recommend standard sized shipping containers, which are either
20ft
or
40ft
in length. For smaller areas of storage (or anything in between) we cut down standard shipping containers to the required length - which gives a whole range of size options, depending on how many golf buggies you need to store.
Please note cut down containers maintain the standard width (8ft), and height (8' 6") of the original shipping container.
How we adapt containers for golf buggies
Once you've chosen the size you require, there are a number of extra features we can install to tailor the container for use as a buggy store:


A choice of door types/additional doors - a standard shipping container has one set of doors located on the narrow end. We can reposition this door anywhere along the container to give better access, or put in additional doors. A door at each end, to create what is known as a tunnel tainer is a popular choice for golf buggy storage, as it allows the buggy to be driven in one end and out the other. We offer a choice of three door types for this purpose - see our article on cut down containers for more details.


Electrical installations - to enable buggy recharging. Electrics include two strip lights, a double socket, light switch and external hook up. £350.


Steel ramps


Repainting - choose moss green to blend in with course surroundings, or club colours for a less conservative look.


Grafotherm - this is an anti condensation treatment and recommended if the buggies will be stored in the container for long periods throughout the winter months