CONTAINERS FOR SALE IN CARDIFF
Containers Direct can provide the perfect solution to shipping and storage in Cardiff and across the whole of Wales. As Cardiff is a busy city and major tourist destination, business and leisure industries based there are booming, and the demand for containers is high. Containers Direct can supply this demand from our satellite depot in Newport, South Wales. Our containers for sale in Cardiff can serve both shipping and storage needs, and can be delivered to our customers in Wales at a great price.
CSC plated containers for shipping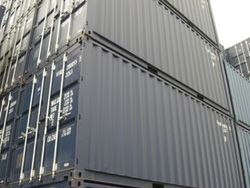 The majority of our containers for sale in Cardiff are shipping containers. Shipping containers are extremely robust and provide a dry, theft and vandal proof environment to protect your goods. Because they are so versatile they can be used for shipping or storage, but bear in mind if you are buying a container for shipping, it is essential it holds a CSC plate or it won't be accepted by container transport lines as safe for sea transportation.
For an example of one of our CSC plated shipping containers available in Cardiff see this
nearly new 20ft
container, available with a discounted delivery rate to anywhere in Wales. As well as nearly new containers, Container Direct also stock brand new and quality used containers suitable for shipping.
For use as a storage container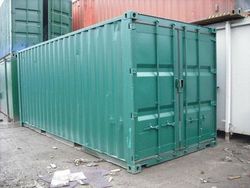 Shipping containers also make superb value on site storage units. With your own storage container on site, accessing your belongings couldn't be easier, and we have a full range of sizes, from 8ft right up to 40ft, so almost anyone that requires a storage container should be able to accommodate one. You'd have to go a long way to find a better value for money storage unit than our
standard 20ft
shipping container, available with cheap delivery to Cardiff.
Cut down containers and flat packs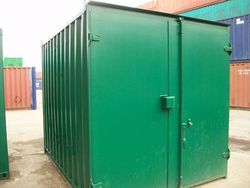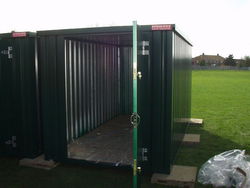 For smaller sizes we have a range of
cut down containers in Cardiff
, and for particularly tight areas, or places with obstacles ruling out straightforward delivery, we also have
flat pack
containers for sale in Cardiff. Our flat pack products are very cheap to deliver and offer mobility that traditional storage containers can't. If you need to relocate your container store, it's easy to take it back down to flat pack form for moving.
Peace of mind with our 12 month warranty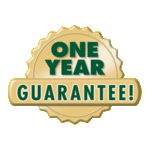 All our containers for sale in Cardiff come with a year's watertight warranty for quality assurance, unless stated otherwise on the product description. Full details of the warranty can be found in clause 6 of our
Terms and Conditions