CONTAINERS IN SOUTHAMPTON
Containers Direct are keen to offer the best value rates for delivery anywhere in the UK. We believe it is unnecessary to pay for an expensive cross country delivery when we can find a way to organise a much more local journey, and pass these saving s on to our customers. We do this by teaming up with container supplier depots across the country, and sourcing the best value containers for our individual customer's requirements, direct from their nearest supplier depot.
Unbeatable delivery rates to the South West
This year we have added to our growing list of supplier depots by teaming up with Southampton docks, to offer the best value containers in Southampton at the lowest delivery rates for our customers based in the South West.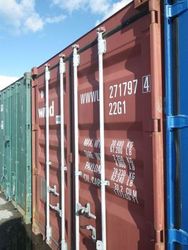 We have a number of great condition containers ready for dispatch from the depot now. This stock of
20ft ISO containers in Southampton
are nearly new and suitable for shipping, as they hold a valid CSC plate which certifies them as conforming to the safety standards required to be accepted for transportation by container liner companies.

We have recently added new
tunnel-tainers
to our stock in Southampton, in 20ft and 40ft sizes. Tunnel-tainers are unique as they have doors at both ends, and are therefore very easy to load and unload, especially if using a forklift or loading pallets.
Great value used containers for storage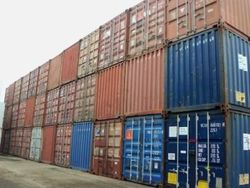 If you are looking for containers in Southampton for
storage
we also have some superb value used shipping containers all set for dispatch across the South West. These containers are refurbished, wind and watertight and built to be durable - guaranteed to give secure and dry storage for a number of years.
These type of containers are what we refer to as Furniture Grade, as their condition is good enough to store household items without the risk of damage, We also stock supplies of value
storage grade containers
, suitable for industrial storage, tools and palnt machinery.
Cut down containers for a more choice
For a wider choice of sizes of storage containers in Southampton we have a selection of cut down containers. These are made from standard 20ft and 40ft shipping containers and modified to produce conveniently sized storage containers with additional features to improve the use of the container as a storage unit.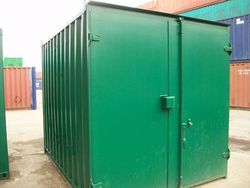 For instance, our supply of 10ft conainers in Southampton are particularly popular with schools and clubs, and have been made more user friendly with the addition of light weight easy to operate doors. Shipping container doors are notorious for being heavy, which is fine for an overseas journey, but for frequent access to the container these doors can be a little off putting! See our
S1 10ft storage container
for a great example from our range of cut down storage containers located in Southampton.