COSHH STORES
We sell both pre-assembled and self assembly containers which are fully compliant with HSE and BASIS regulations for the Control of Substances Hazardous to Health (COSHH). This means that any substances that include chemicals, flammables, fertilisers and pesticides must be stored appropriately to safeguard the welfare of people, animals and the environment. It is essential the container is bunded, to protect against unintended escape, and a wide range of options can provide other protections.
Shipping container COSHH store
We offer a range of "off the peg", or custom built chemical storage units, using modified shipping containers in a variety of lengths, from either used or once-used containers.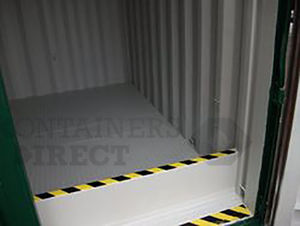 These containers are available in a range of sizes from 10ft to 40ft in length, modified from either used or new containers, with an anti spillage returning lip, a slip resistant steel floor plate and louvered vents. If you require a different length or additional features, we can make these to order.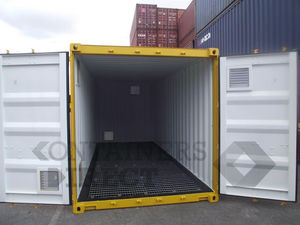 Featuring a bunded sunken floor, overlay durbar floor, 500mm louvered vents and drainage valves. We can use any length shipping container, used or new, and offer optional extras.
We can produce a COSHH store to your own design. If you have any special requirements let us know and we can accommodate them using our Container Conversion service.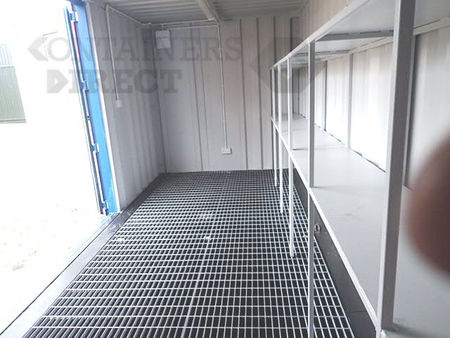 Self assembly COSHH stores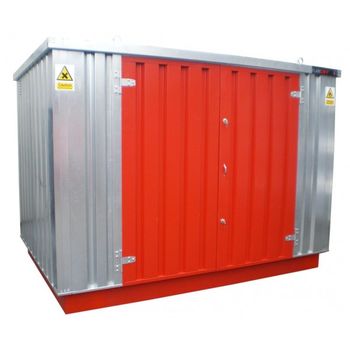 Great for smaller spaces and awkward areas to reach, these products are man portable and are easily assembled, or disassembled if they require moving. Featuring a suspended floor grate that sits above a sump which safely collects leaked or spilled materials, we offer a choice of three lengths -
2m, 3m or 4m
. For more details see our page
Flat Pack Chemical Stores