CUT DOWN CONTAINERS IN SOUTHAMPTON
Cut down containers in Southampton are now being offered at a discounted price, saving you up to a third off the previous price - thanks to our new container supply depot in Southampton!
Giving our customers the best delivery rates around!
Previously, ordering a container from the South West meant additional costly delivery charges from out of our less 'local' supply depots. In recent months Containers Direct has sought to increase the number of supply depots we use throughout the country, in order to pass on the best rates to our customers, so we now have a good number of shipping containers ready for release out of Southampton docks.
We have a wide stock of standard
20ft shipping containers
based in Southampton, from builder's grade to nearly new, and we have now added a number of cut down containers.
How we make cut down containers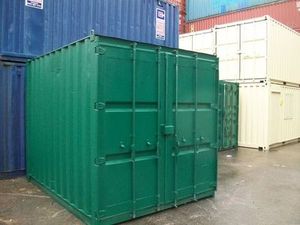 These combine the solid body and security of a shipping container with the convenience of a more manageable size for your requirements. Our
cut down containers in Southampton
are made by taking 40ft shipping containers and cutting them down into four 10ft containers. These containers are very popular for domestic storage, and with small businesses and leisure groups. You will also find odd sized shipping containers as 'cut downs' too, so you should be able to find the right sized container to fit your space, whether it be 8ft, 15ft or even 21ft!
Choose from shipping doors or storage doors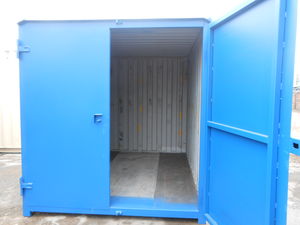 Many of our cut down containers in Southampton are refurbished, which includes a complete repaint, and restructuring of doors to make the container better equipped for storage, rather than shipping. As there will be only one original door between the four new 10ft containers produced when cutting up the 40ft model, new ones have to be made for the other three. This is why you will often see cut down containers without the traditional shipping style doors, which are quite cumbersome to use for everyday storage, so lighter
flat panel doors
are often fitted instead. Sometimes they are fitted into the longest side of the container, rather than the end, which increases your options of where to site the container.
Call Containers Direct on 0800 061 2575 if you would like to take advantage of our cut down prices on cut down containers in Southampton!