Flat Pack Chemical Stores in Birmingham
Flat pack chemical containers are a simple, low cost and flexible alternative to traditional pre-built COSHH stores. COSHH stores are approved for the safe storage of substances hazardous to health, such as pesticides, fertilizers, flammables, fuels and solvents, and should be able to safely contain leaks and spillages. We have a supply of flat pack chemical containers meeting these standards, that we delivery direct to Birmingham at a reduced transport rate.
Features of flat pack chemical stores Birmingham
The self assembly nature of these stores makes them a great option for built up city areas like Birmingham, where space is limited. Every single component of the product is man portable, and delivery can be made on a flat bed truck with no cranes or special lifting gear necessary. And even the most reluctant DIY-er can assemble the smallest model in under an hour!
Fully galvanised body


Powder coated finish


Double doors


Double locking system


Suspended floor grate


Sump to contain spillages


Modular - join additional units together
Size options

These containers start at
2m
to accommodate the smallest of loads, and go up to
4m
(see table below for all dimensions), but as these units can be connected, both longways and sideways using a simple linking kit, you can create a storage space to fit your own requirements.
| Container Type | Length | Width | Height | Weight | Sump capacity |
| --- | --- | --- | --- | --- | --- |
| 2m | 2.16m | 2.30m | 2.24m | 520kg | 6801L |
| 3m | 2.16m | 3.08m | 2.24m | 633kg | 9041L |
| 4m | 2.16m | 4.08m | 2.24m | 781kg | 1212L |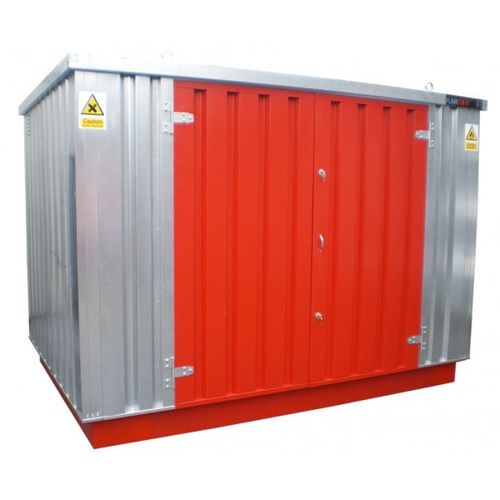 For other types of chemical containers available to Birmingham see our page
Chemical Storage Containers