FLAT PACK STORAGE CONTAINERS
Flat pack storage containers are the perfect solution for customers seeking storage in awkward places, or for those needing to move storage containers around on a regular basis.
Man portable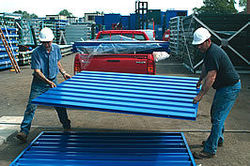 A traditional shipping container is great in terms of security and durability, but delivery requires plenty of room for manoeuvre, and the use of a crane to lift it.
flat pack storage containers
can be lifted by hand and carried one panel at a time, so no matter how challenging the environment is, there are no barriers to reaching the intending spot with a flat pack container. And if you need to move your store to a new 'home', again there is no need to call in the heavy lifting brigade! You simply take your container back down to a flat pack and it can be transported on a flat bed truck.
Modular capacity - join them up!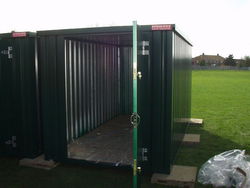 As part of the Expanda range, our flat pack storage containers are
modular
, meaning extra units can be added on at any stage after purchase, using a linking a kit.

Quick and easy assembly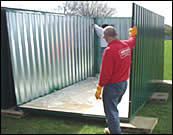 Assembly of flat pack storage containers is not as challenging as you may think - you can have the job done in less than an hour with our easy to follow
instructions
, depending upon the size of the container. All units come with a standard width and height of 2.1m, and a choice of 2m, 3m or 4m lengths. For exact dimensions see the table below.
| ContainerType | Length | Width | Height |
| --- | --- | --- | --- |
| 2m | 2.1m | 2.1m | 2.1m |
| 3m | 3.1m | 2.1m | 2.1m |
| 4m | 4.1m | 2.1m | 2.1m |
Standard and additional features of flat pack storage containers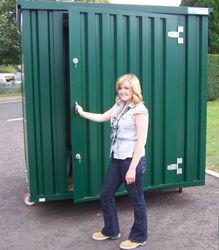 Made from galvanised steel and with a double locking system as standard, your flat pack store should be as reliable for storage as a shipping container. On top of this we offer enhancements including a powder coated exterior finish to extend the life of your container, levelling feet, shelving and electric packs. Please ask about these additional features when ordering.

Low cost delivery
Delivered in a compact form, transportation is much cheaper than for a standard container. Call us today for a quote on delivery rates to your area.
Testimonial
"Excellent doing business with you and the flatpack container is already assembled and on site! Foremen from other departments within our organisation have shown interest, so in time you might get more orders from us yet!"
From Mark Harris, Shrewsbury Town Council - 3m green flat pack container