FLAT PACK METAL CONTAINERS
Flat pack metal containers are becoming increasingly popular, providing a low-cost solution to acquiring that extra storage space you need, in places where delivery of a pre-assembled container would be impossible. And there is no need to worry about buidling flat pack metal containers - assembly is very
straightforward
and we offer full support.
Convenient AND low cost delivery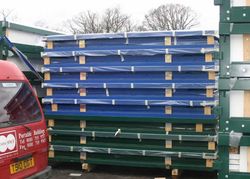 Flat pack metal containers are delivered in panel form and our smallest 2m model can be easily assembled by two people in less than an hour. For larger storage space we also sell 3m and 4m flat pack metal containers, which can be assembled by 3 and 4 people respectively. As an example, take a look at our
4m model
.
Portable, flexible and modular!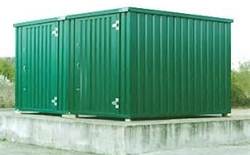 Flat pack metal containers have the added advantage of being completely portable, which allows you the flexibility of dismantling them for relocation or temporary storing, according to your changing requirements. In addition they have a modular capacity, meaning they can be linked together to form a larger modular building.
Flat pack offices for more space saving solutions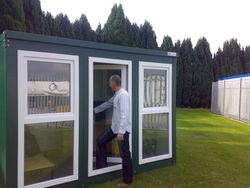 Our flat pack metal containers are very popular with organisations such as schools, clubs and allotments, but we also supply self-assembly
site offices
which can be simply put up in your own garden, providing the perfect solution to limited space and access.
Standard features and optional extras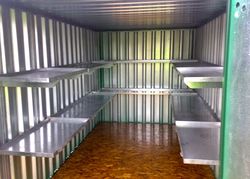 All our flat pack metal containers and offices have a galvanised steel body, with the option of powder-coating in green or blue, and are fitted with a double locking system for security against theft and vanadalism. Optional extras include:


Forklift or self-levelling feet



Snap-in shelving uprights and arms



Fitted doors in the long side of the container body



Low cost nationwide delivery


For more information see our
technical details
page.
Testimonial
"Very high quality, extremely helpful"
Damian James of City and County of Swansea, after purchasing two 3m flat pack containers with a linking kit.