Foldable Containers
For anyone that needs some storage space, but has limited room and access,
flat pack containers
are the answer. They also make the perfect choice of container for anyone who needs to move their store around frequently, or use it on a temporary basis.
Easy to transport
Foldable containers do exactly as their name suggests - they are flat pack storage containers that can be folded down and moved to a new location with ease. This gives them a great advantage over the pre assembled container which requires a hiab delivery truck to be moved, and clear access to its destination for unloading. Because of their compactness, foldable containers are transported flat on the back of a truck and can be unloaded and carried by hand to virtually any spot, however challenging the access is. Not only is this highly convenient but also allows substantial savings on delivery costs.
Easy to assemble
Foldable containers are self assembly, although very simple to put together, and fold down again whenever required. Our smallest container can be made up in less than an hour, so assembly is really not the major headache you may associate with flat pack products. See our
overview guide
to construction if in any doubt - detailed instructions come with product.
Strong and secure
All our foldable containers are manufactured from galvanised steel, to give you the strength and security necessary from a storage container, and come in a choice of sizes - 2m, 3m and 4m, with a uniform width of
2.1m
. They are also modular, which means they can be joined together to create a larger storage area using a straightforward linking kit.
Other foldable products
For the storage of hazardous chemicals
foldable chemical stores
are also available, combining the convenience of a flat pack container with the safety features required by health and safety regulations for storing substances such as paint, fuel and fertilizers.
Flat pack offices
are also available, which are ideal structures for the back garden or other areas with restricted access. Strong, secure, and like all out other flat products, modular, you can create larger areas of space by joining containers up.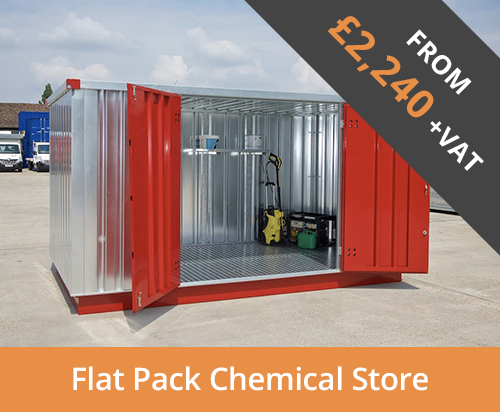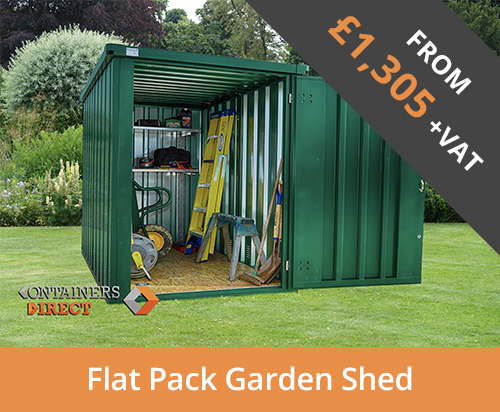 Testimonials
"Military style organisation backed up with great customer service."

From Richard Jones who ordered 2 x 3m long foldable containers, with a linking kit to join up side-by-side.
Read all testimonials here!