FULL SPEC SHIPPING CONTAINERS
These are new shipping containers with a difference. Most new shipping containers are built for shipping lines, but full spec shipping containers are built with the storage and domestic transportation market in mind. As most shipping containers are eventually used as storage containers anyway, it makes sense to incorporate features that enhance performance as an easily transportable storage container from the outset.
What are the additional features of full spec shipping containers?
Storage friendly features include:


Waist level high locking arms


Varnished floor


10 vents as opposed to two


Fork pockets to enable fork trucks to move them (shipping containers are handled from the top in ports and container depots)


What are full spec shipping containers used for?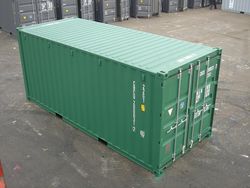 Also known as Dry Van containers, these are the most popular product for general cargo or storage use, therefore are widely used by retailers, building contractors, the removal and self storage industry, and sports clubs and schools for on-site storage. They are also easily adapted to make site and accommodation offices. And as they are built to the highest standards required in all
ISO containers
, they are also suitable for shipping. The addition of fork lift pockets, makes them a good choice for domestic transportation.
Saving money on transport costs - the one trip container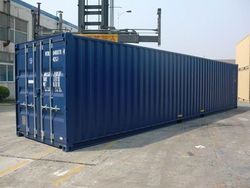 Containers Direct can offer a great price on our full spec containers, by taking advantage of 'one trip' transportation. Manufactured in China, the transport costs over to the UK are paid for by loading them with cargo for the journey. So they arrive on our shores in new condition, but without the price tag of a brand new container!
Full spec products available at Containers Direct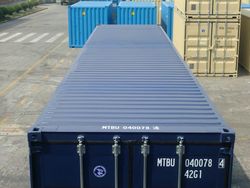 We have both
20ft
and
40ft
sizes in stock, and a choice of two colours - blue and green. Stocks are kept ready for delivery at our regional supply depots in various locations across the UK, so we can give our customers the best delivery rates available.