INTERIOR REPAINTING SHIPPING CONTAINERS
Used shipping containers
can be anywhere from 10-15 years old, and will be retired shipping containers who have circled the globe carrying various cargo. As such, both the outside and inside of the container are likely to have rust spots (perfectly normal, but can be unsightly), dents and scratches. For many customers, an exterior repaint is a way to improve the outside of the container, however to improve the look of the inside, we can offer a full interior respray.
Interior repainting, is this something you need?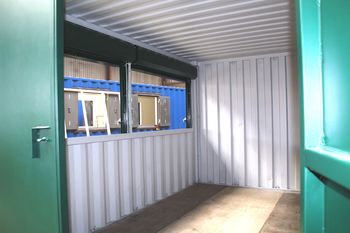 If you are concerned about the inside appearance, then an interior repaint would help. We would first wire brush down the container to remove any surface rust, and then use a primer before painting. Our standard interior colour is RAL7035, Light Grey, to closely match the original internal colour. We would suggest this option if you're going to be putting furniture or other valuable items against the walls to prevent any rust stains spreading.
This would also be our recommended suggestion if you are using a second hand container for a major conversion project. We understand that many of our customers work to a budget, and sometimes a
once used container
is just a little too far out of range. If you do decide to scale back and base your conversion on a used container, an interior repaint can instantly improve the appearance of the container without breaking the bank.
Before and after: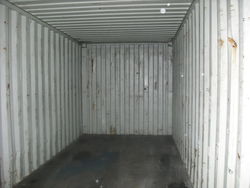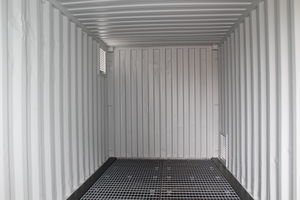 Other interior options
Ply lining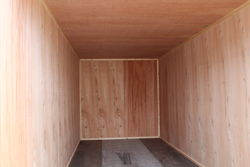 If you are going down the
ply lining
and insulation route, an interior repaint isn't required. The insulation is packed into the corrugation with plywood over the top, covering the original container wall.
Melamine lining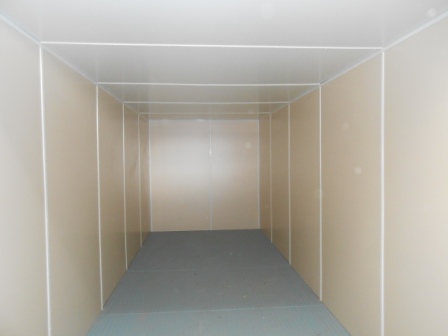 With a similar function to ply lining,
melamine lining
is a wipe clean option favoured in office, toilet and catering conversions, whilst still providing insulation and protection against condensation.
Grafotherm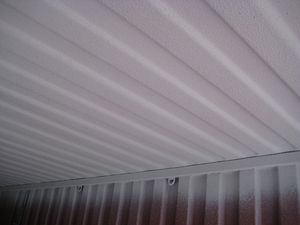 In addition to repainting the interior, we offer an anti-condensation spray called
Grafotherm
. This product absorbs moisture as it forms, to stop it from dripping onto the contents of your container. It is applied to the ceiling only, and provides a reasonable level of protection from any water damage. It can take up to 3 weeks to fully dry (especially in damp and cold conditions), and as it is water based, it can draw out some rust patches. Whilst unsightly, these rust patches won't affect the performance of the product. Offered as a cheaper option to our recommended ply lining, the price won't break the bank for those customers working to a budget.