ISO CONTAINERS FOR SALE
All ISO containers are designed and built in strict accordance with the specifications set down by the International Standards Organisation, to ensure these containers can safely withstand the rigours of global transport by road, rail and sea. Without this regimentation, container transportation would not only be chaotic but potentially unsafe. Therefore it is essential that any container used for international shipping holds certification to show it is up to standard. This certification is known as a CSC (Container Safety Convention) plate, which you can think of as a container MOT, or passport to travel.
Buying an ISO container for shipping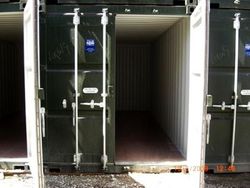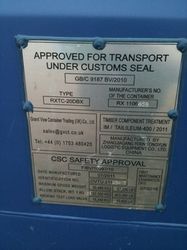 Containers Direct have
new
and
used
ISO containers for sale, which hold the essential CSC plate. If you have not purchased a shipping container before it can be confusing to navigate your way through the many boxes described as shipping containers, when many of these are not true ISO containers, or are no longer fit for shipping purposes. This is because the majority of storage containers on the market are in fact used shipping containers, but this does NOT mean they can continue to be used for shipping. Many will have deteriorated in quality too much, or have had changes made to them which contravene ISO certification standards.
Other types of ISO containers for sale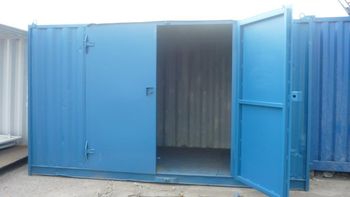 If you are unsure, Containers Direct are here to advise and assist with your purchase, and our product descriptions will usually state whether it is an ISO container suitable for shipping. For some basic information, the majority of ISO containers for sale are either 20ft or 40ft long, 8ft wide and 8'6" high. Variations on these dimensions are available, but more unusual, so it's worth double checking with any other containers sizes you come across that they are indeed suitable for shipping. If you do not require the container for shipping, but for use as a general storage unit, as long as the unit is watertight and in a condition fit for your intended purpose, the options are much wider. A number of modifications are commonly made to ISO containers sold as
storage units
, which gives you more choice and flexibility.
ISO containers from Containers Direct
All shipping containers are built from high density, weatherproofed steel, known as
corten
, which ensures a long working life for the container. To view some examples of our ISO containers for sale, go to our online sales directory and have a look at our 20ft and 40ft products. Because Containers Direct hold supplies of containers at depots across the UK we can give you unbeatable value on delivery rates.