JOINING UP SHIPPING CONTAINERS
Shipping containers are often used as the basic structure for conversion projects i.e. offices, clubhouses, garages, classrooms, welfare cabins, workshops etc. They make the perfect secure, anti-vandal site accommodation, but as shipping containers are manufactured in a standard width of 8ft, this can sometimes prove restricting if a larger space is required. Our solution to this is to join shipping containers together, side by side, to give a width of 16ft, 24ft or even 32ft.
How we join containers


First we remove the full long sides of the containers.


Depending on the length of the containers required, we can either retain 350mm on each side of the aperture to provide strength to the container and reinforce the aperture with box section steel, or we can create a supporting post(s) in the middle of the container which are reinforced with box section steel to stop the roof from dropping down.


The containers are then joined together. We usually secure them with bolts to prevent any movement.


We provide our customers with a PVC "Top Hat" and flash-banding to seal the two units together. We can provide an installation service if required. Similarly, some customers prefer to weld the containers together once in place on site.
For conversions with the upright supporting pillars removed to allow for the full open space, a far more heavy duty box section steel is required to reinforce the top rail, in order to support the roof section (£POA)
Case studies
Take a look at this
workshop
conversion we undertook for a community group in the North West, using 2 x 20ft containers, to give an overall width of 16ft.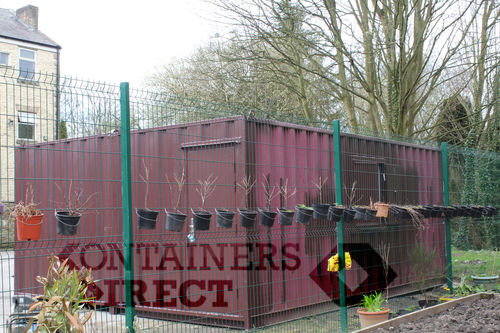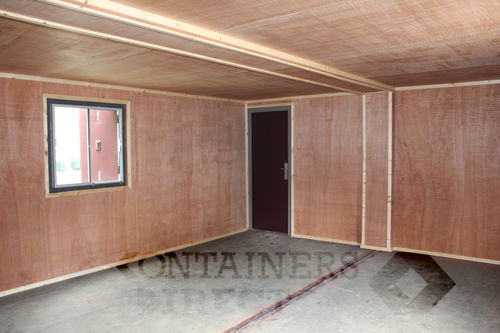 Or see this
garage conversion
project completed in Bath, using 3 x 20ft containers, to give an overall width of 24ft.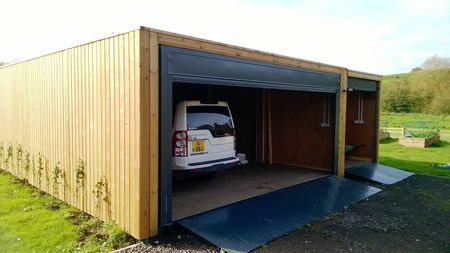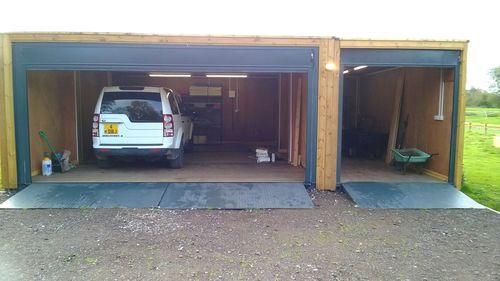 Joined up office conversions
For any office conversions, we would always recommend Melamine lining and insulation and an Electrical Installation (these can be quoted on depending on your specifications). Steel personnel doors and shuttered windows are also favourites, however we are also able to provide a range of patio style doors, sliding doors, UPVC windows and bifold doors upon request. Additional popular features include partition walls, and fixtures and fittings such as toilets and kitchen facilities.
Extra wide storage space
Joining shipping containers together can also be used to achieve an extended storage area, in which case the normal selection of features available with converted storage containers apply:


Repainting - choose from a large range of colours


Lining and Insulation - Fully insulates your container to protect against condensation. We can provide both Ply lining and Melamine lining depending upon the specification required.


Grafotherm - applied to the ceiling of the container to help reduce condensation.
Choice of door styles:


S1 Storage container doors, which are much lighter and easier to handle than shipping container doors

S2 Original shipping container doors, which are heavy duty and rubber sealed



S3 Storage container doors, which are lightweight and include a rubber seal.



Personnel Doors, a good alternative when pedestrian access only is required.


These door options are also available in the side to provide access in the length of the container.
Patio doors and bi-folding doors
make an attractive alternative, letting in lots of light and allowing easy access.