NEW BUILD SITE OFFICES
Struggling to find the right size office to fit your requirements? Frustrated by the restrictions imposed by standard sizes offices (usually 8ft or 10ft wide, and most commonly 10ft, 20ft and 32ft long). Let us build you a bespoke unit that not only lets YOU specify the dimensions, but also incorporates your own design. So whether you'll be using the accommodation as an office, canteen, changing room or workshop, Containers Direct can provide the right unit.
Adding to our bespoke size
new build storage containers
, we are now manufacturing new build site offices in the Containers Direct workshops. This means we can build site offices us to order, with a realistic price tag. Using brand new, weatherproof corrugated sheets of steel, our new build products, make highly dependable and secure units suitable for use as offices, classrooms, changing rooms or club houses. The same basic structure we use can be custom built to any size and fitted out internally to suit its intended purpose.
Standard structure of new build site offices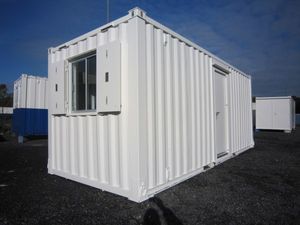 Anti vandal steel construction





Steel shuttered glazed windows



Lined and insulated for comfort



Vinyl flooring



Consumer unit with external hook up



Wall heater, strip lights and double sockets



Delivery price includes on site positioning of your choice


Customise on the inside
Containers Direct can fit a range of facilities to any site office, so whether, for example, you need toilet/and or kitchen facilities, partitioning or a cloakroom, we can transform your basic office unit for you.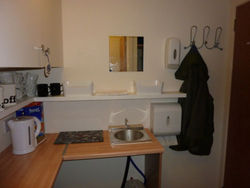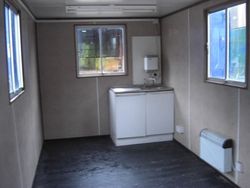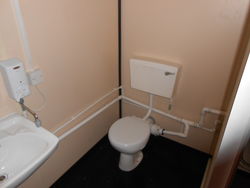 Choose your own colour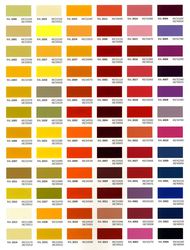 All our new site offices are painted before being dispatched to our customers, for both a protective and attractive finish. Select from a wide range of
colours
- whether it's grey or bright pink you'd like!