OCEAN CONTAINERS
Ocean containers go by a number of different names, essentially all referring to the same basic structure - a steel box designed to carry cargo across the ocean. Also known as shipping containers, ISO containers, freight containers and export containers, they are manufactured to very specific standardised specifications, which are useful to know about before purchase.
Specifications of ocean containers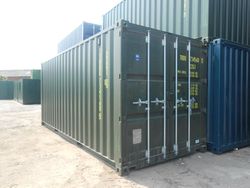 Ocean containers are by their nature and purpose "standard", with the design regulated by the International Standard Organisation (ISO), and are a requirement for all ocean going containers:


Made from Corten steel -making them waterproof, rustproof, strong and durable


Marine ply flooring - designed for heavy weight bearing



Double doors fitted into one end - rubber sealed, hinged to maximise opening space, each secured with two locking bars


Variations
Like most things 'standard' there are variations. These are harder to come by, and therefore more costly than standard ocean containers, but they provide useful options and convenient alternatives. Some of the 'non standard' containers on the market are:


High cubes - 9ft 6in in height, for taller loads or voluminous cargo


Side opening containers - easier access and loading/unloading for wide cargo


Tunnel tainers - doors at both ends


Pallet wides - these have an additional 4in of internal width which enables 2 pallet, side by side, to fit through the doors


Lengths - ocean containers also come in non standard lengths, such as 10ft, 30ft and 45ft.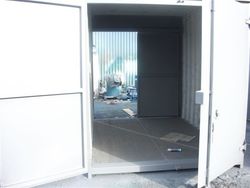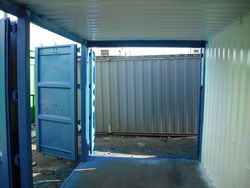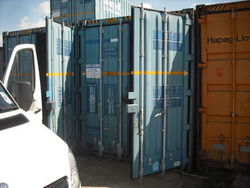 Export or storage?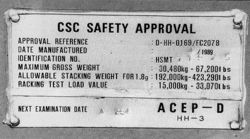 It is vital to check before purchasing a non-standard ocean container for export that it is certified as suitable for this purpose. Many containers end up as dry land storage units, and have been modified accordingly - however, these alterations will nullify their suitability for export, and they will not be accepted as cargo by shipping lines. Even standardised containers can be rejected if they have developed faults (such as holes and cracks) which can compromise the well being of other containers being handled alongside, or the safety of those handling them.
Any container for export should be certified with a CSC (Container Safety Convention) plate, to show it has passed the rigorous checks and standards required to be seaworthy. With containers purchased for storage use only, as long as the container is watertight and in an acceptable condition for your requirements, there is no need for it to be plated, and any modifications will be of benefit.