PORTABLE TOILETS FOR SALE
Come to Containers Direct for the biggest range of new portable toilets for sale. From single chemical toilets to fully mains connected large toilet blocks we have something to suit every purpose
. Our new portable toilets are ideal for on-site provision where toilet facilities are otherwise lacking. They're ideal as a mobile solution for toilet facilities at outdoor events or for construction companies who move from site to site. They also make great static units, as a permanent fixture for schools, clubs and outdoor centres. Our clients include Scouting organisations, sports clubs, parks and nature reserves. Which ever type of toilet you chose it will provide many years of trouble-free usage.
Containers Direct offer three main portable toilet product types to suit the various needs of our customers, including single unit chemical toilets, mains connected single toilets and toilet blocks, and bespoke built
shipping container
toilets. Some of our portable toilet blocks can even include shower cubicles, changing facilities and disabled access.
Our PC Portable Toilet Range
Our PC range of single cubicle new portable toilets include both chemical and mains connected single cubicle toilets. Light and easy to transport, chemical toilets are the only option for sites without mains services.





These portable toilets for sale are practical for regular relocation, which means they are ideal for construction sites and outdoor events. The mains connected toilets comply with Health and Safety regulations required on all fixed construction sites and are easily connected to either the mains or holding tank. They are light to move and come with pipe fittings for easy connection. Our PC range of portable toilets for sale are made from durable plastic and use hard-wearing materials aimed at reducing maintenance costs related to the service of portable and chemical toilets.
The CTX Range
Our CTX new portable toilet cabins are made from top quality materials and include every facility you would want for a hygienic and pleasant visit to the toilet! These are genuine Containex toilets, which are the highest quality range of portable toilets for sale in the UK. Mains drain connected and with a connection to a water supply, water heater and sinks, these units make excellent short or long term sanitary facilities at outdoor visitor attractions, events and on building construction sites.






Made from galvanised steel, with high quality sound and heat insulation and a cement bound chipboard floor plate, they are designed for long term use. Our CTX toilet cabins are compatible with varied layouts and equipment options, depending upon your requirements. They start from a single 5ft cubicle and go up to 30ft in length, with options for disabled access cubicles and even showering facilities.
Bespoke Build Toilet Conversions
Our thriving container conversions department constructs portable toilet cabins from new and used shipping containers, to bespoke designs. Choose your own layout and configuration and see your design brought to life by our in-house conversions team.
Some of our favourite container conversion projects: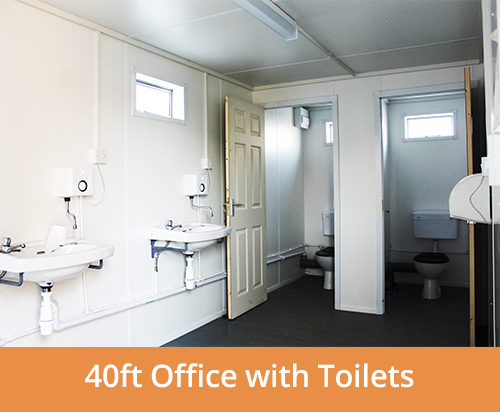 We frequently build portable toilets, sometimes known as welfare units, where they incorporate changing and showering facilities, for the construction industry and working environments based in remote locations. For instance, we built this
16ft toilet block
for a Salmon Farm on Loch Ness. Our bespoke toilet conversions are suitable for long term use at a static location.
Toilets for the workplace
Health, Safety and Welfare regulations state that a minimum number of toilet/wash basin facilities must be provided according to the number of employees in the workplace. More information on site toilet requirements can be found at
http://www.hse.gov.uk/contact/faqs/toilets.htm
.
Testimonials
"Very happy overall, delivery driver was excellent and I would recommend Containers Direct".

From Gerard McAuley

"Everything ran smoothly, Very professional from ordering to delivery, would definitely recommend."

From John Lawton, London Road Bowling club

"Great service & product, have recommended to other sites."

From Dennis Faulkner