Qualities of a Good "Used" Shipping Container
Shipping containers for sale on the storage market can all look the same, but there are some things to look out for which can give an indication on if a container is sound.
Shipping containers
will either be
used
(10-15 years old already, and retired from the shipping lines), or
once-used
(a once-used container will have been shipped once with cargo from the country on manufacture in order to keep costs of import down). Although a used container is cheaper than its once-used counterpart, this doesn't mean it should be any less effective as a storage unit, and can be a good solution for customers working to a tight budget.
Things to look out for when purchasing a used container
Used containers aren't always the most aesthetically pleasing. You can expect your used container to have dents, dings, scrapes and rust. These qualities do not mean the container is unsuitable or unfit for purpose, they're just signs of its previous life as a shipping container.

However, there are certain characteristics of used containers which give a good indication as to their quality:
Fully seam welded patch repairs. These containers will have been shipping cargo across the oceans for many years, often stacked high on cargo vessels and filled with a variety of different cargo. As such, between the ocean air, salt water and handling at various shipping depots across the world, some containers will have required maintenance and patching in order to keep them usable. This involves a welder removing a broken or damaged part of the corten steel and replacing it with a matching piece of corrugated steel, fully seam welding the patch to ensure the container is still watertight and structurally sound. Some people see these patches as unsightly, however a proper seam welded patch shows a repaired container, not a broken one.
Intact seals and 'free and easy' doors.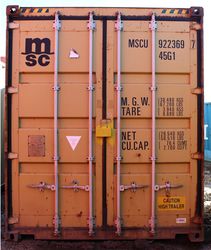 Shipping container doors have seals around the outside to prevent any water ingress damaging the cargo inside whilst the container is in transit. Something to keep an eye out for is to make sure the container door seals are still intact and line up properly against the container. We call these doors the S2 doors, however we actually manufacture other door types specifically for the storage market. You also want to check your original container doors are 'free and easy'. Used containers have a reputation for having stiff and difficult doors. Whilst common, you want to make sure the doors are able to open and close properly. Sometimes rust can build up inside the hinges, making the doors unusable, let alone stiff!
No light when you're inside.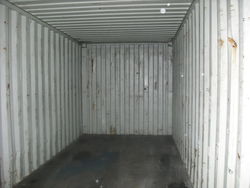 Sounds simple, but as these units will have been shipped numerous times, rust will be evident. This is normal as Corten Steel is designed to rust to provide further protecting against the elements however, if untreated, it can corrode the whole way through. One of the first checks we perform when inspecting used units which come into our depot is to go inside the container and close the doors. If we can see light peeking through anywhere, we know the unit will need repairing to make it watertight again.
Used 20ft shipping containers