SECOND HAND STORAGE CONTAINERS
With most things in life, you get what you pay for, so cut price second hand usually means the quality or condition is not great. However, when it comes to storage containers, this isn't the case. Storage containers are built to last, and deterioration in condition is slow. It is not unusual to find a storage container still going strong after 20 years, particularly if it is a shipping container. So buying second hand storage containers most certainly can prove to be wise investment.
Used shipping containers for the best long term value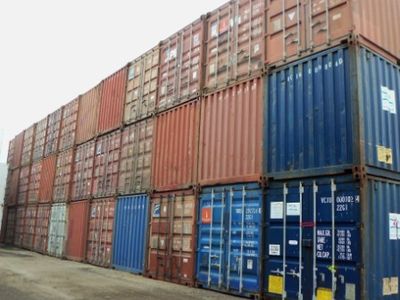 If you are considering buying used but are not sure where to start and what to look for, this article will help you to avoid certain pitfalls and choose a reliable product that will provide you with dry, secure storage for a long period of time. For the strongest second hand storage containers, we would recommend buying a
shipping container
. These are the most commonly used type of storage containers, as they are built from extremely tough corten steel with rust repellent agents to protect the metal from the damaging effects of spending a life outdoors - especially at sea! As they are made entirely from steel, including the reinforced doors, it's almost impossible to force entry.
Altered and unaltered containers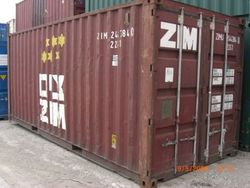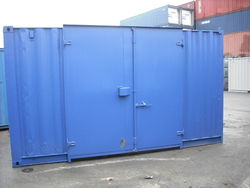 Second hand storage containers can be divided into these two groups.
Unaltered shipping containers
work out cheaper per metre, as there have been no additional costs involved in modifying the container. These are usually either 20ft or 40ft long. Altered shipping containers have had work done somewhere along the line to produce features more convenient for storage use. This can be anything from a new or repositioned door, to a container cut in half with a new end piece and door welded on. Containers are cut up in this way to produce a wider range of sizes than unaltered shipping containers can provide.
10ft storage containers
are always in demand for smaller storage loads.
Beware the pitfalls of very cheap containers - check for quality first!
Although most second hand storage containers are in usuable condition, there are some important things to look out for before purchase. A very cheap container may cost you more money in repairs and maintenance than you bargain for. The cosmetic appearance of the container is not such as issue, as any used container will show surface signs of wear which can be
painted
over if the look of the container is an issue. More importantly the container must be structurally sound, so look for any holes, or signs of major corrosion that will cause leaks, particularly in the roof. Again, surface rusting is not too much of a problem - in fact corten steel is designed to rust on the surface on exposure to air, which creates a protective layer against further damage.
So the golden rule when purchasing second hand storage containers is to look for quality over price, and buy from a reputable dealer that offers a warranty on the product. Containers Direct have a 12 month watertight warranty on our quality used containers - for full details see Clause 6 of our
Terms and Conditions