SELF ASSEMBLY CONTAINERS A CONSTRUCTION GUIDE
You are only 8 simple steps away from constructing a highly versatile anti-vandal steel storage container or site office!
With just a socket set and a screw driver our range of flat pack containers can be put together in less than 60 minutes. All fixtures and fittings are included in the kit


Once fabricated, these units provide high levels of anti-vandal security, whilst offering much greater flexibility and value for money.


If you need any technical support during the construction of the flat pack unit, one of our staff will be more than happy to help
Weight:
2m - 271kg


3m - 351kg


4m - 421kg
For safe and easy assembly we recommend using the "one person per metre" rule for the job.
The Flat Pack Store - Assembly Instructions
Step 1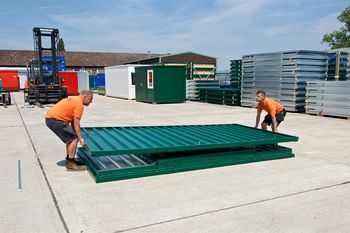 The container arrives flat pack for easy delivery to even the trickiest of locations.
Step 2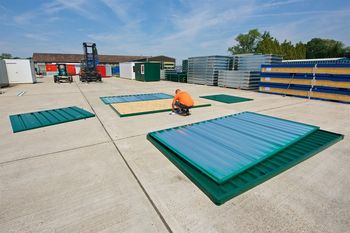 Unload the panels. They are light enough to be carried by hand to your chosen place of assembly.
Step 3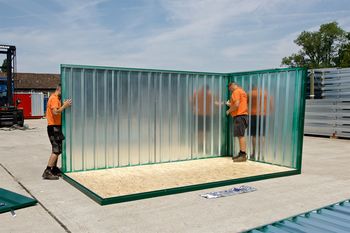 Fix all the panels into the base.
Step 4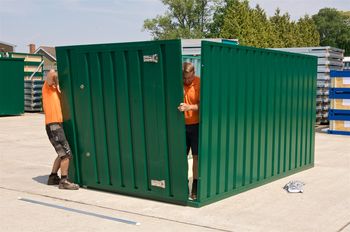 Secure by fitting the holding screws in place.
Step 5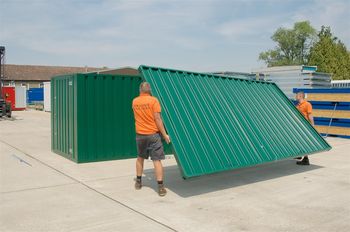 Time to put the roof on -just lift and slide.
Step 6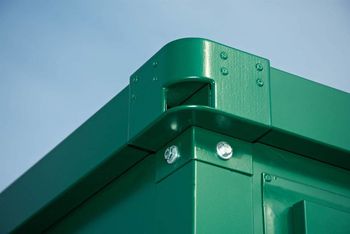 The container is secured by 4 lifting rods and screws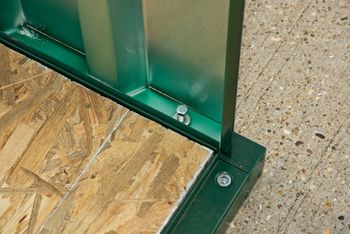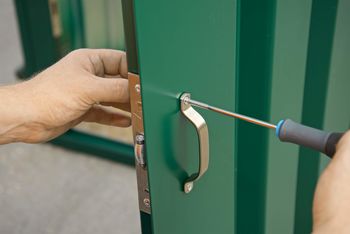 Step 8
Your container is now complete. Stand back and admire your handywork with a well deserved cup of tea!
The Flat Pack Site Office
Step 1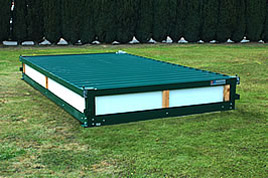 The cabins arrives in flat pack form, and can be moved into difficult to reach areas either as a whole or in individual panels.
Step 2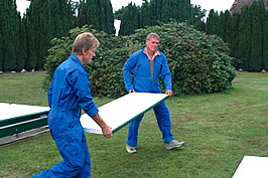 Unpack the cabin in the position you wish to assemble it.
Step 3
Align and bolt in the four corner posts.
Step 4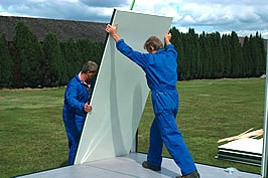 Line up into the grooves and slide in the wall, door and then window panels.
Step 5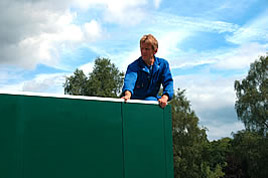 Now you can fit the ceiling retention bars, lining up the fixing holes on the wall panels with the fixing holes on the retention bars.
Step 6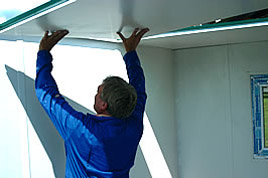 Slide on the ceiling panels.
Step 7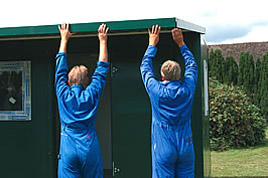 Manoeuvre the roof cap into position and click into place to secure.
Step 8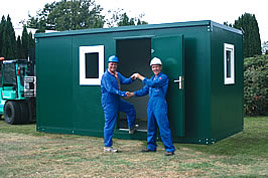 Well done! Your cabin is now complete and ready to kit out for use.
A FULL SET OF DETAILED INSTRUCTIONS IS INCLUDED WITH EVERY SELF ASSEMBLY PRODUCT
Testimonial
"The whole process from start to finish was amazing. The customer care was flawless. The container it self is great. It was so simple and easy to put up, with 5 of us working on it, it took us less than an hour to build and it fitted together perfectly!"
From Anthony at the Church of the Good Shepherd, who bought a 4m flat pack container.
Read all testimonials here!