Self-Build Containers
Our range of self-build containers are a great way of solving the problem of extra storage space, even in areas where space and access are restricted.
Flat pack containers
can be easily delivered and
assembled
, even in your own back yard. For an example of our range, take a look at this
3m storage container
.
What are self-build containers?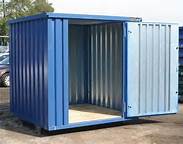 All our self-build containers consist of four wall panels, a roof panel, floor panel and door, and can be put up virtually anywhere with just a simple set of household tools, and between two and four people, according to the size you chose. Self-build containers come in 2m, 3m or 4m lengths. Once you've put the container together, you still have the freedom to take it apart again with relative ease, if for instance, you wish to move it to a different location, or it's no longer in use.
All self-build containers are made from galvanised steel, and are fitted with an anti theft double door lock, giving security levels comparable with other steel storage containers. For more details please see our
technical information page
.
Additional features available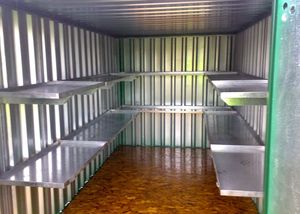 Upon request the following extras are available for all our self-build containers:


A choice of factory finished powder coated colour to paint over the galvanised steel body


Ramp


Snap in shelving system


Self-levelling, castor or forklift feet


Linking kit to join up additional units


More self-build products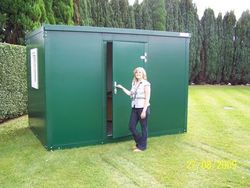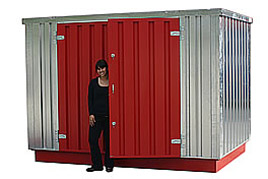 We also have a great range of self-build
site offices
, offering the same space-saving advantages of easy delivery, low cost, flexibility and convenience.
Self-build
chemical stores
, conforming to the required Health and Safety regulations for the storage of chemicals and hazardous substances, are also available.
We can deliver anywhere in the UK, at a very competitive cost, due to the space saving nature of self-build containers.