CONTAINER RAMPS
Containers Direct sell a range of container ramps, designed to make loading and unloading safer, quicker and easier. Shipping and storage containers have a lip approximately 7 inches from the ground, which can make lifting large of heavy objects into the container difficult. Using a ramp reduces health and safety risks associated with heavy lifting and if moving liquids, the risks of spillage during movement.
Our container ramps provide a portable solution - they can be quickly and safely positioned at the container doors to provide ramped access for pallets and forklifts, making light work of loading your container. Our ramps are fabricated in our own workshops, to high standards and we offer three standard designs and sizes for different requirements. Bespoke sizes and designs are available upon request.
8FT RAMP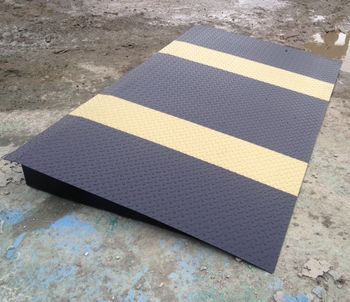 Made from heavy duty steel
Fully welded Durbar anti-slip plate
8ft wide x 4ft long
Gives access to container with both doors open - load two pallets a time!
Choose from green, blue or black
Weight = 104.4kgs
We can make this ramps to any required size/weight tolerance - please enquire.
*
Please note, the ramps supplied are not designed to be left in situ, but instead moved up against the container as and when required. If you need the ramps to be left permanently in place, the bottom of the doors will need adapting, so please speak to one of our sales people for advice.
Car ramps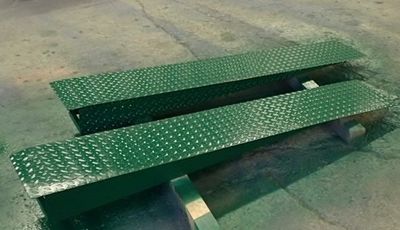 Storing cars and other vehicles in containers is commonplace, but a container ramp is essential for entry. We have designed a
car ramp
especially for this purpose - with two pieces at 6ft long x 1ft wide each, they can be spaced apart to fit any width of any chassis. These can also be used for quad bike storage.
For our CarTainer product, we have designed a heavy duty (5 tonne tolerance),
low level ramp
that can be left in situ, even when the opening and closing the container doors.
For containers suitable for car storage, see our article
Containers for Car Storage
.
Other container ramps
We make any size ramp to order - please enquire for details. We can also make hinged, fold up ramps, which are particularly suitable for disabled access in a range of
container conversions
, for example offices, catering and pop-up shops.
All our container ramps come in standard colours of green, blue or black, but can be repainted to any other colour for a small charge.