CONTAINER SHELVING
To maximise the use of all available space within your container, investing in good quality shelving is essential. Most storage containers are 8' 6" high, and a lot of this will be dead space without proper organisation. Heavy duty shelving bays can be used to transform the contents of your container from sprawling chaos across the floor, to a tidy store with easily accessible contents.
Pre-fitted or self assembly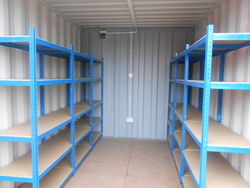 If you wish to add shelving bays to your container, these can be purchased directly from Containers Direct, with the option to either purchase as a flat pack self assembly product, or fitted in your container at our depot prior to the dispatch of your container.
Connectable
Shelving comes in the form of individual bays that can be connected together side by side, or back to back - so whether you need one bay or enough to span the entire length of your container, we can accommodate your needs.
Shelving specifications


Dimensions per bay: Height: 1780mm Width: 900mm Depth: 450mm


Shelving capable of carrying 175kg per bay (tested to EU standards)


Steel framework with chipboard decks


Each bay contains 5 adjustable shelves
Shelving prices
Cost per bay (5 shelves - 1m/3ft wide) £70 plus VAT - fitted, OR £50 plus VAT - self fitting
Three bays joined side by side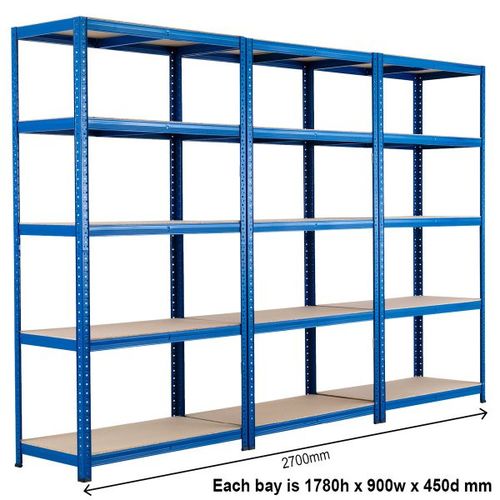 Need something a little stronger?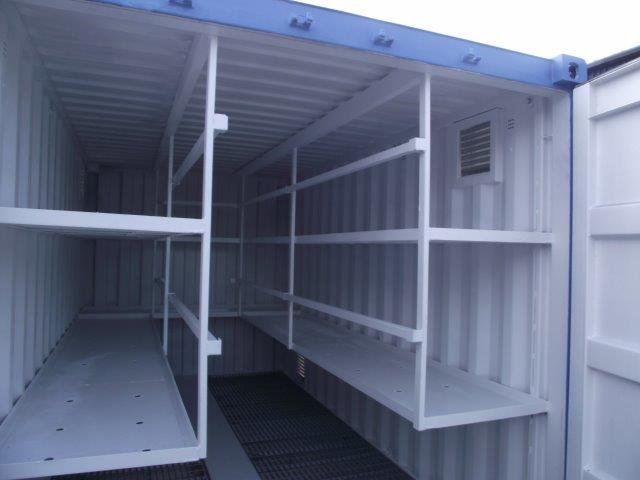 We also can provide bespoke heavy duty shelving, which is suitable for very heavy applications, such as engine parts, machinery etc. We manufacture and this shelving on site, from steel box section, which is welded into the container. Our bespoke suspended welded shelving would be our recommended shelving type for
chemical stores
with a removable grate flooring option such as the Hawk or Falcon. For standard heavy duty storage, this shelving can be fitted from floor level with 12mm ply boards.
Price upon application
Tyre storage
Shipping containers are becoming a popular storage unit for garages and car dealerships as a secure way to store tyres. Our
tyre racking
enables you to maximise space and provides an easy way to reach your tyres rather than barrel stacking them.
Testimonial
Emma Norton from Luckaborough Farm ordered a 20ft container with 6 bays of 5 tiered shelving, Grafotherm and electrics:

"Good product at a good price and very nice company to deal with."

From Ian Rennison:

"We bought a 20ft steel container to hold all our stuff while we moved house. In the past we just piled boxes and furniture in as best as we could. These shelves have made an enormous difference to the amount of stuff we can fit in and easily find again. Well worth the money. Excellent service throughout."