Shipping Container Vents For Sale
Most ISO containers are manufactured with small sets of vents, usually located at the side of the unit, to allow a little air in and out of the container and reduce condensation. Due to the seafaring nature of shipping containers these vents have to be kept small. We can fit this type of
ISO/shipping vent
to any container, or conversion. upon request.
However, small ISO vents can be limited in their effectiveness when the container is used for other purposes, like storage, especially if the container is place side by side with other containers, as is often the case, because this restricts the air flow. To get round this problem, Containers Direct can fit larger, louvre vents, in any position, to any container ordered. These type of vents promote air flow much more effectively.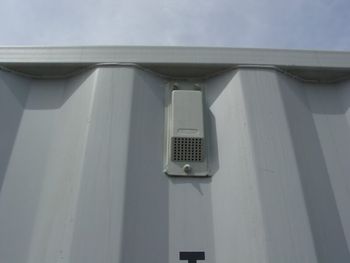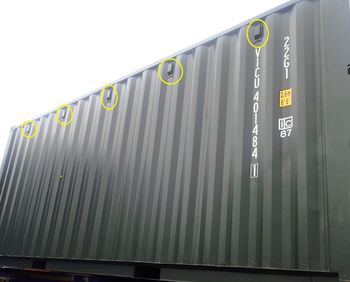 Standard small ISO vents
Louvre vents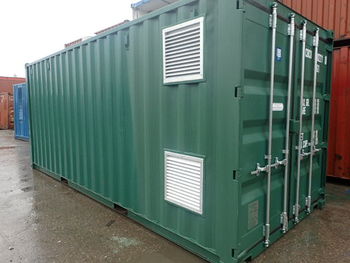 Our vents are additional container parts that are easily installed to provide an adequate amount of airflow that can either reduce, or eliminate condensation that accumulates inside a sealed container when there are temperature swings.
We always recommend installing vents in pairs. If only one vent is installed it will do very little to help airflow. A pair of vents placed on opposite sides of the container provide both an entrance and exit for the flow of air - this is known as cross-ventilation. As a guide, a 20ft container works best with two to four vents.
Vents at Containers Direct
The vents we make for all our conversion work are weather louvres, which provide maximum air-flow, while retaining an element of security in keeping with our containers' anti vandal nature, and are designed to give good protection against ingress of rain. We can either leave vents in standard steel finish, or paint these in the same
colour
as the container so that they blend in against the shipping container. We can make vents to any required size, but our standard vent sizes are: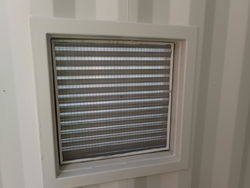 Features of louvered vents:


Aluminium


Angled blades


Flange, recessed and reversed available


Protective mesh cover
Fitting vents at Containers Direct
The first step is always to cut the correct size aperture into the container, in the required positions. Then we fit a steel frame into the aperture, which will hold the vent itself.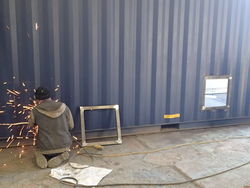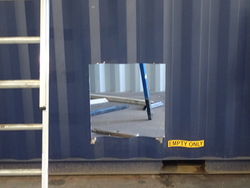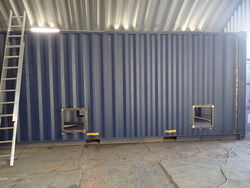 These vents were fitted to a container converted to house a biomass boiler. For more on this product, see this
conversion case study
.
Picture gallery of our shipping container vents