SHIPPING CONTAINER VENTS
Containers Direct supply a selection of shipping container vents for sale ranging from standard off the shelf vents to bespoke sizes. Ventilation enables airflow though the container to help reduces condensation, and lowers temperature inside containers.
Shipping vents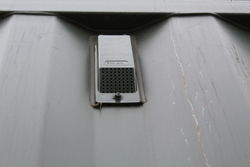 Most shipping containers have, as standard, factory fitted shipping vents. These are designed to allow air to circulate within the container to minimise the risk of condensation whilst goods are being transported. Most containers have at least two of these vents.
A couple of
shipping vents
is adequate for the purposes of shipping but for domestic/industrial use, in particular where heat generating machinery is installed or for when chemical storage is required, more ventilation is usually needed. One option is to fit additional shipping vents, as illustrated in this
10ft container with vents
A more common solution is to fit larger, more effective louvre vents.
Standard louvre vents for Shipping Containers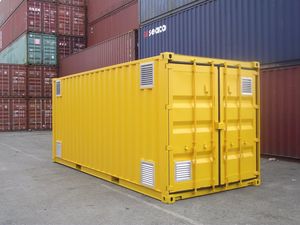 Containers Direct specialise in the fabrication and fitting of louvered vents for shipping containers. Larger vents are a more effective way of allowing air to circulate freely and can be supplied to any size required.
Common vent sizes are
300mm x 300mm
and
500mm x 500mm
.
Good ventilation is a must for chemical stores. Our
Falcon chemical store
has eight 500mm vents fitted as standard and this ensures adequate ventilation for most chemical storage requirements.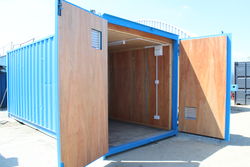 Ply lined containers
can also be fitted with vents - this one has 300mm x 300mm set within the container.
Bespoke louvre vents for shipping containers
We are often asked to manufacture and supply bespoke vents to meet the various requirements of our customers. Here are some examples of odd sized vents, some behind the doors!