OPEN-SIDED CONTAINERS
Loading and unloading of shipping containers can often be a little tricky, because to conform to ISO specifications, the door is built into front narrow end of the container. As shipping containers are 8ft wide, and access through the doors in only 7' 8", this can be a little restrictive for larger loads. It is possible to buy
pallet wide containers
, which can accommodate two 4ft pallets side by side for quicker loading, but if the container is being used as a storage unit, we would recommend open-sided containers.
Unrestricted access!
Open-sided containers are shipping containers which have been modified to incorporate two sets of double doors into the long side of the container. This opens up the entire length of the container, giving full and unrestricted access. Due to the amount of space required to fit in two sets of double doors, these are usually 20ft containers, although 40ft containers can also accommodate plenty of door space.
Great for over-sized items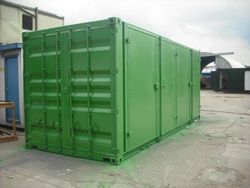 For some great examples of open-sided containers in stock at Containers Direct, take a look at our
SC13
model. This container also has the original shipping container door left in place at the front end, making a total of three sets of doors! This makes it ideal for storing large furniture items or plant machinery that would not fit through a standard container door, or just for making quick work of loading ordinary items.
Fitting storage doors for easier use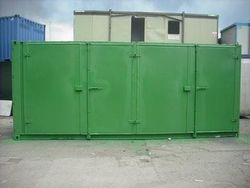 The doors we manufacture to fit into the side of containers are different from shipping container doors, as they are made from flat steel panels instead of heavier corrugated steel. Our experience shows us these doors are more compatible with storage use, where the doors will be opened and closed on a regular basis. However, they are comparable in security to shipping container doors, and the addition of a security lock box over the padlock will give you further peace of mind. Furthermore, the doors on some of our open-sided containers have been fitted with the same rubber seals that are used around shipping container doors, for the ultimate barrier against water entering the container. This
20ft container
has been fitted with
rubber seals and lockboxes.
Ask for side doors with any storage container purchased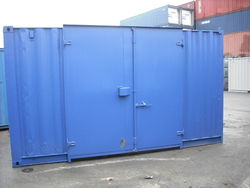 Upon request Containers Direct can convert most of our storage containers in stock into open-sided containers. We have a specialist container modification department dedicated to fulfilling our customers' precise requirements. For
smaller containers
, we can still reposition one set of doors in to the long side of the container.