SMALL SHIPPING CONTAINERS
Containers Direct are now selling the
CTX range
of small shipping containers that provide the ideal solution for small storage loads. These containers are new, built to the same standards as larger shipping containers, instead of being cut down from these. This means their strength and security equals containers built for the shipping industry, which exceeds those built exclusively for storage.
Features of our CTX small shipping containers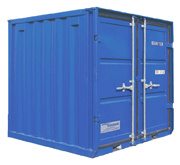 Corrugated steel body


High corrosion and UV resistance


Galvanised locking bars


High quality powder coating


Laminated plywood floor


Fork lift pockets
Low cost and quick delivery from regional depots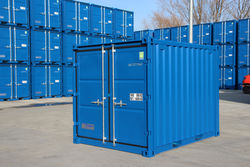 All our small shipping containers are dispatched directly from one of our 15 supplier depots, located across the country. This means we can offer our customers the best delivery rate available to their area - from Southampton to Leeds, Wales and Scotland, we have it all covered!
Four sizes of small shipping containers to choose from
This container is almost a cube, and will fit almost anywhere
Tall and narrow, this is called a 'mover box'. Great for moving house/premises, it also makes an ideal bike store
Compact but with a little extra room
This container is built to the same dimensions as a standard 10ft shipping container, and therefore is suitable for both shipping and storage
External measurements
| Type | Length | Width | Height |
| --- | --- | --- | --- |
| 6ft | 6' 6" / 1.98m | 6' 4" / 1.95m | 6' 3" / 1.91m |
| 7ft Mover | 7' 2" / 2.20m | 5' 3" / 1.60m | 8' / 2.45m |
| 8ft | 8' / 2.42m | 7' 2" / 2.20m | 7' 5" / 2.26m |
| 10ft | 10' / 2.99m | 8' / 2.44m | 8' 6" / 2.59m |