Storage Container
The storage container comes in a multitude of sizes, ranging from our smallest at 6ft, to our largest at 45ft - with almost everything size in between! But if you can't see the size you're looking for amongst our displayed products, we also have a
Shipping Container Conversion
service, dedicated to fulfilling specific customer requests.
How we make an odd sized storage container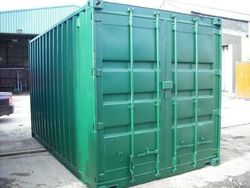 Once a shipping container is no longer used for export, they can be cut up to any size, and modified in various other ways to produce a brand new storage container. Most certified shipping containers are either 20ft of 40ft long, so it can be confusing to find 'odd sized' containers labelled as shipping containers. The mystery is solved by the simple explanation that once a container is no longer used for shipping, it can be any size you want with the aid of a conversion service!
We use shipping containers as the basis for our storage container stock, as we believe these give you the best quality product around. They are of solid design, made from thick corten steel, which protects against dents and corrosion. A storage container manufactured specifically for the domestic storage market is made with a thinner grade of steel and the floor cannot bear as much weight. There is one advantage to this grade of storage container - the doors are much less heavy compared to the rather industrial design of shipping container doors. Many of our domestic customers enquire about door refitting on shipping containers, and we are happy be able to offer a refit of storage doors on any of our shipping containers.
Another option of storage container available at Containers Direct, is the self assembly store. This fills the gap for customers whose storage needs are light enough not to warrant the strength of a shipping container. This storage container is
flat packed
and popular with customers who have limited space and access. The 2m model can even be dispatched to the smallest of domestic premises, and they are great for temporary use as they are collapsible. They are made from galvanised steel and have dual locks, so like any other storage container, they still give good protection against theft.