USED STEEL SHIPPING CONTAINERS
Used steel shiping containers offer superb value for money and great versatility. They can be used for shipping (if still plated and certified to ISO requirements), or used as a dry and secure site store, or cut up and adapted to make a new store to any size demanded.
From bargain basement to used once only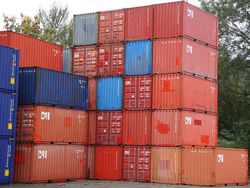 Used steel shipping containers will vary in quality, but it is worth noting that many have only been used for a few shipping journeys before sold off as dry land stores. This is because we have a surplus of shipping containers arriving on our shores, due to our export economy shrinking over the years, so many containers will quite quickly be sold for storage use instead. Good news for the customer looking for a bargain!
The ideal storage unit - tough and secure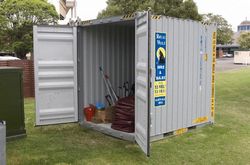 Used steel shipping containers are perfect for the job as a storage unit as they are built to withstand heavy weight bearing, bad weather and impacts. If you imagine everything a shipping container is put through on a sea voyage, lifted and stacked up on top of other containers, battered by bad weather and sea water during rough crossings, this gives you some idea of how hardy a shipping container must be! This is why shipping containers are made from
Corten steel
with marine ply flooring, which means that when used as a storage container they are theft and vandal proof, watertight and rust proof, and will give you many years of good service.
Cut down containers for a wide choice of sizes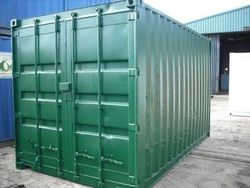 Storage containers purpose built new simply cannot compete with steel shipping containers in terms of strength, although new storage containers can be built to any size, whereas shipping containers are restricted to 20ft and 40ft lengths imposed by the need for uniform shipping standards. This is where cut down containers bridge the gap - used steel storage containers can be used to make 'new' storage containers of different lengths. For more on this process, please read our
Cut Down Containers
web page.
For some great examples of used steel shipping containers available from Containers Direct, see our
quality used shipping container
products. For something really cheap we also have
economy grade containers
, which are suitable for short term use.