Shipping Container Conversions

33ft

CS22313

Call For Delivery Costs: 0800 061 2575
CD Code
CS22313
Features
Design
The project begins with a 40ft new shippping container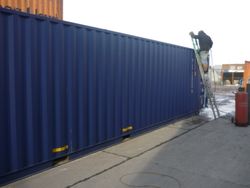 Our client wanted a container measuring 33ft in length, which means using a cut and shut process on a 40ft container. When a container is cut and shut, first we cut off the corner post section from the door end of the container, and then cut the required length from the remaining body of the container. The corner post section with doors is then welded back on. This is done to keep all four corner posts in tact, as these give the container resilience during lifting or stacking.
The cut and shut - making a 33ft container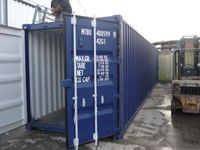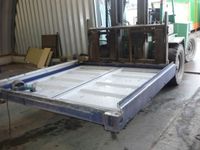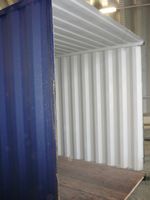 Removing the corner post and door end section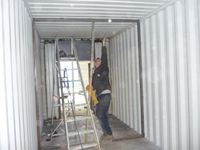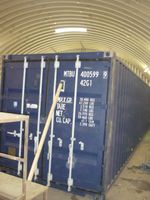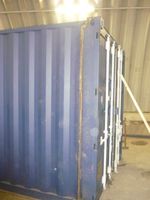 Cutting the container to size and welding corner post and end door section back on
Fire doors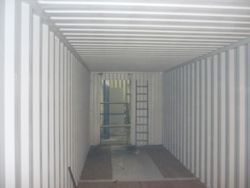 The first stage in this process is to cut apertures into the container walls, where our client has requested two fire doors. We can then fit the steel personnel doors with fire safety features, including quick release bars and vents.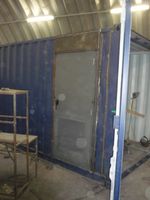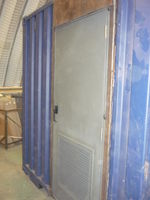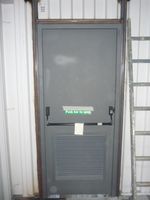 Floor apertures
Our client needs to run cabling from underneath the container, and up through the container floor. Therefore we were asked to create a series of holes in the timber floor. After cutting through the timber and the steel bearers below, we inserted a a steel box section frame into each hole.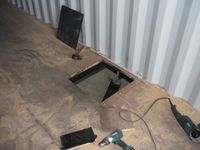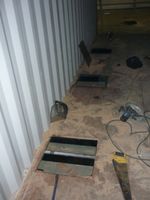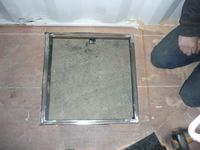 Circular Aperture
This was cut into the top of one of the walls, do accomodate a fan.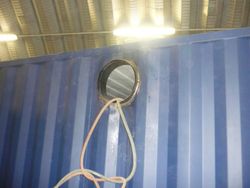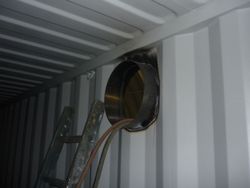 The trap door
This is one of the most unusual modification we have been asked to make to a shipping container. Our client asked for a 750mm x 750mm lockable hatch for access into the container from underneath it!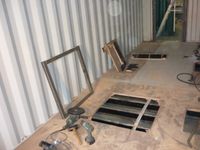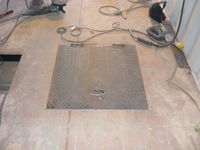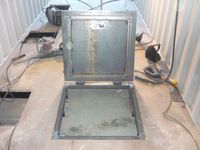 Welding Unistrut to the wall
These are brackets to mount the electrics and other fittings, onto the container wall. We were asked to weld them across the entire length of the wall.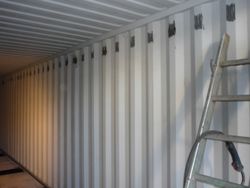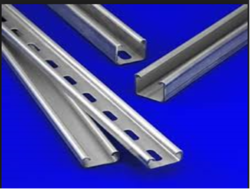 Insulation and melamine lining
Our client chose to have the container insulated with 100mm rockwool, which is packed into a timber frame, fitted to the container walls. Instead of lining the frame with plywood, as is standard, we were asked to use a wipe clean, melamine alternative, bordered by plastic trim.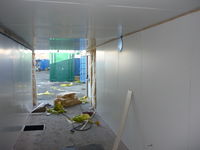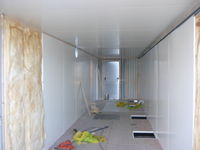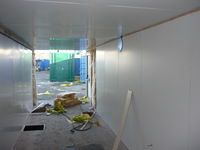 The container repainted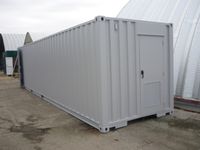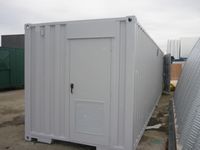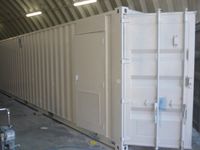 Colour shown, Goose Wing Grey
Update from our client
The container is now in situ, and completely fitted out by our client for use at
KidZania London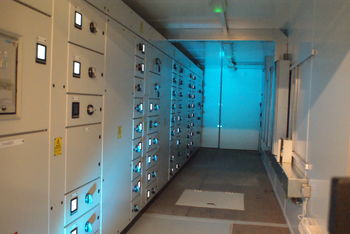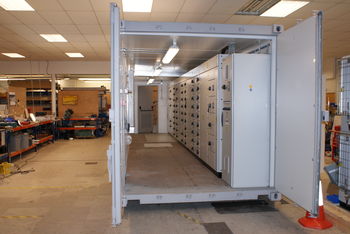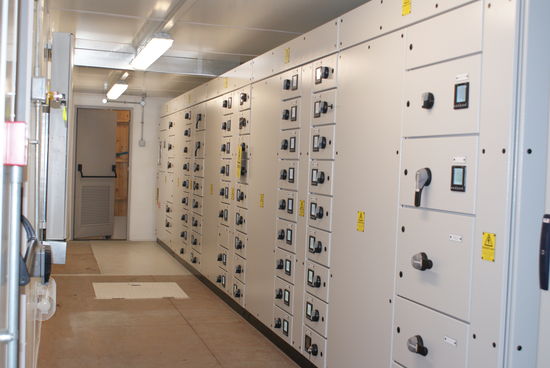 The CAD
As with any product, specification is subject to change without prior notification. You are advised to confirm current specification before buying.