10 Small Businesses to Start Up in a Shipping Container
Monday 8 April 2019 Filed in: General
Looking for premises to grow your small business in? Shipping containers offer low start up costs, flexibility, reduced carbon footprint AND are always a good talking point to attract custom. Who doesn't love the novelty value of a converted shipping container!
We've put together our Top Ten list of business ideas that flourish in a well converted shipping container, where costs are kept low and after initial purchase, there's no rent to pay on the unit. They can be functional or quirky in design, to suit the type of business you're running, and help you stand out from the crowd in a highly competitive commercial environment.
1. Retail Unit
A unique shipping container is ideal to set up shop in. For example:
Gifts
Antiques
Handmade crafts
Books
Seasonal goods - e.g. fireworks, Christmas trees
See some of the features we can add to containers to make the ideal basis for a
pop up shop
.
Or you may want to consider using the container as an office for running an ecommerce business from.
2. Art Gallery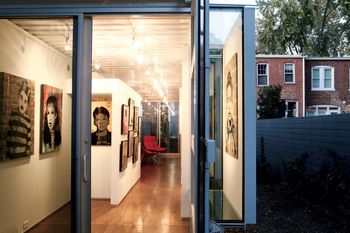 Use a shipping container to create, sell, or display your own work, or hire it out as temporary exhibition space to other artists and organisations. This featured container
art gallery
was constructed in the back yard of a keen collector.
3. Studio Space
Create your own arts and crafts in a container, to sell or display, whether it's sculpture, ceramics, photography, candles, metal or wood craft, a shipping container studio can be fitted out with everything you may need to follow your passion. Other ideas for studio space include: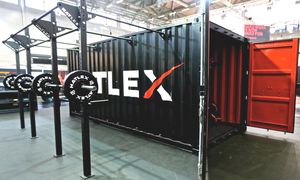 Music practice or tuition
Yoga
Mini gym - illustration shows a "ready-made" container gym with all equipment included, retailed by Hatlex. For something cheaper and simpler, why not design and kit out your own model.
See our case study included in No 9. Office Space, for an award nominated construction we worked on for a ceramics gallery and studio, combined with offices.
4. Food and Catering
Coffee shop
Speciality/artisan foods
Farmers' market - either a single unit, or why not set up a cluster of units to hire our for all weathers
5. Workshops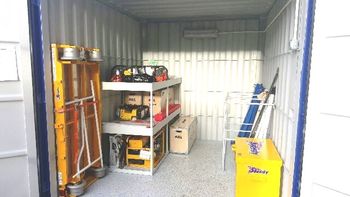 Again, hire shipping container workshops out to other businesses or hobbyists in need, or use it as your own. Operate your own specialist skills from one, such as a repair/refurbishment point for bikes, computers, mobile phones and other gadgets and gizmos. Take a look at some of our
workshop conversions
.
6. Health and Beauty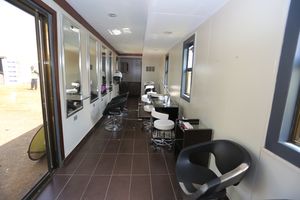 How about a nail salon, hair salon, or other popular beauty treatments? A well designed, beautiful interior will make people forget they are having their eyebrows done inside a shipping container! See how the KCB Foundation in Kenya launched their
franchise container model
to revolutionise accessibility to business for Health and Beauty graduates. And let's not forget grooming for our pets. A small shipping container is just about the right size to set up dog grooming equipment.
7. Event Space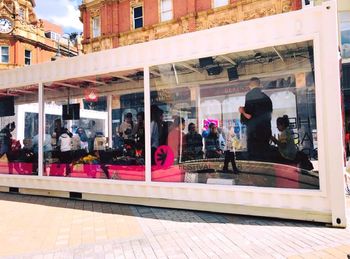 Provide a space for community groups and businesses to hire out for shows, parties, festivals, awards nights and much more. You get to earn an income while they have fun. The novelty of holding an event in a shipping container offers something unique that can give you the edge on rival event spaces.
See our amazing
event space
container conversion, that now resides in the city of Leeds, where amongst other things, has been host to a fashion show, and a piano concert!
8. Visitor Centre
Perfect as a small space to fit into a city centre, or an existing outdoor attraction. Visitors and tourists can pop in to get all the help and information they need for their visit.
9. Office Space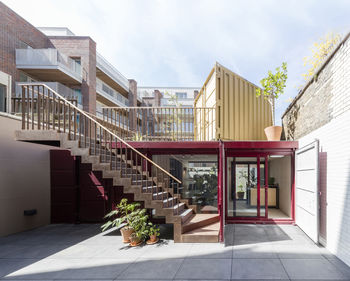 From a single 10ft office to running a small business from, to a bigger complex of offices where you can rent out individual units to local businesses, the shipping container office conversion is now a staple of business and commerce.
Our featured office conversion, the
Porcelain Gallery
is made up of 4 containers, and includes a ceramics studio and gallery space, as well as the offices.
10. Self Storage Facility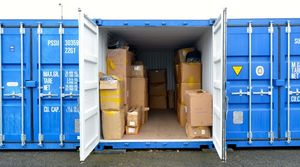 And lastly, the obvious one. The biggest use of shipping containers is still as a plain and simple storage unit. Spacious and highly secure, they are often used in self storage compounds. Why not buy a job lot of containers and run your own? After all, storage never goes out of fashion.
Thinking big
As touched upon previously, shipping containers are not only about small business. They are great as a low cost and simple starting point to get your idea off the ground, but larger scale developments using containers are rapidly on the rise too. It's not uncommon to see motels, temporary (and even permanent) accommodation, shopping malls and leisure developments constructed entirely out of shipping containers.
Boxpark
now consists of 3 "pop up malls in Shoreditch, Wembley and Croyden, devoted to shopping, eating and drinking and entertainment, and made up entirely of re-purposed shipping containers.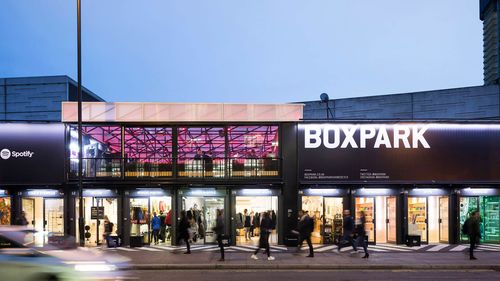 See our recent
news article
to learn more about the proposed Baltic Triangle Leisure Village, Liverpool. With 15 re-purposed shipping containers planned in total to provide spaces for music, arts, food and drink, exciting developments like this prove that businesses in shipping containers are not just a novelty or fad, but are hear to stay.