How to Get Rid of Your Old Shipping Container
Tuesday 12 October 2021 Filed in: General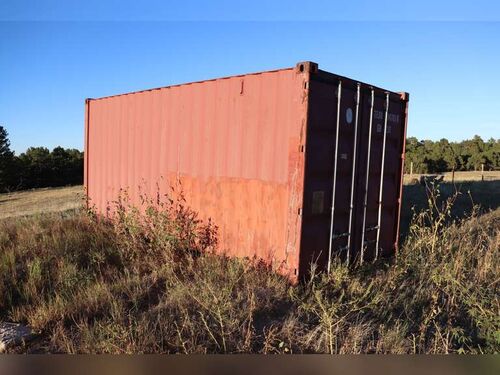 Shipping containers are incredibly durable and strong – they need to be, as they all start their life being battered by harsh environmental conditions at sea; lugged about at ports; and stacked up with lots of other containers. Whether they have made just one trip, or multiple sea faring journeys, at some point it will be time for them to be retired. After this many shipping containers go on to be repurposed for dry land storage or upcycled for use as portable buildings for all sorts of uses.
But eventually the time will come in a shipping container's life when it's no longer useful – either because it's reached the point of no return in its condition, or its services are no longer required by the owner. If you have a shipping container and want to know how to get rid of it, it's good to know your options. You may be surprised to know that what might seem like a lost cause to you still holds some value!
Sell your shipping container on
It's much more environmentally friendly to repair and renovate used shipping containers than to scrap them. You'd be surprised at the potential an old shipping container can still hold in the hands of a professional company that specialises in
container conversions
and modifications. And of course it's always good to get the best return on your investment by selling rather than scrapping. Ask for a quote, and you might be surprised how much your unwanted container is still worth.
Buy back
Many shipping container retailers will have a buy back clause in their terms of sale. If you still have the original paperwork from your purchase you this could be the easiest option for getting your old shipping container out the way, but bear in mind you may get an better offer if you are willing to "shop around".
Part exchange on your shipping container
If you wanted to trade in your old shipping container for a newer one, or are considering an upcycled/converted container, then ask for a part-exchange. Take a look at some ideas for shipping container conversions, and other
container products
that could replace your old container, from garden offices and man caves to workshops and pop-up shops.
Hassle-free container collection
Containers Direct take the hassle out of recycling your old shipping container by collecting. If we've made you an offer we'll pick it up, so there's no need for to arrange expensive transportation yourself. Even if your container is ready for scrapping, we may be able to offer a "takeaway" service.
0800 061 2575 info@shippingcontainersuk.com

Don't dump. Recycle, earn some cash - you know it makes sense!